15 Bad*ss American Women You Need To Know About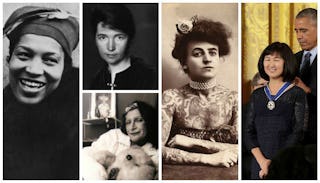 During the second wave of feminism in the '60s and '70s (look it up, kids), feminist activists grabbed onto a well-known phrase, "Behind every great man there is a great woman," and used it as a rallying cry for women to feel emboldened to adopt the attitude that "the personal is political." Before we knew it, young women were beating down stereotypes and walls, and throwing rocks at glass ceilings. But it didn't take famous women to get the real work of equality going — it took everyday women with brass ovaries and a "Take No Shit" attitude to make history. And they aren't done. Fast-forward to 2016, and we can still see brave and bold women paving more roads toward equality and justice. The work isn't done, far from it, so we have to keep going.
If you're in need of inspiration, start here:
Hands down, the most badass woman to ever walk the earth was Zora Neale Hurston. Bar none. Hurston, a fearless black woman from the South, earned a degree in anthropology from Columbia University in 1928 at the age of 37. She worked alongside the likes of Margaret Mead before turning her attention to literary aspirations, where she would become one of the voices of the Harlem Renaissance. It wasn't long before she was hanging out in writing circles with men like Langston Hughes. But that wasn't what made her so badass. She wrote the bestseller, Their Eyes Were Watching God, which would serve as an inspiration to writers like Alice Walker, Toni Morrison, and Maya Angelou. In her later career, Hurston became involved in trying to end "paramour rights," a form of sexual slavery in the Segregationist South.
Vermont made history when at the stroke of midnight on July 1, 2000, it became the first state in the union to legalize same-sex marriage, giving same-sex couples the same exact legal rights and benefits that heterosexual couples have enjoyed for eons. The fist couple to tie the same-sex knot was Carolyn Conrad and Kathleen Peterson, who became a point of pride and inspiration in the LGBT rights movement that eventually led to the landmark SCOTUS decision making same-sex marriage a right throughout the nation.
Margaret Sanger
Do me a favor, the next time you say the words "birth control" say thank you to the badass American activist, Margaret Sanger. Actually, you know what? You can say it by donating to Planned Parenthood, which incidentally, wouldn't exist without her. Back in 1916, she opened the first birth control clinic in the United States and was arrested as a result. She was an outspoken advocate for women's reproductive rights, and not only did she coin the term "birth control" but she organized clinics and groups that evolved into what you now refer to as Planned Parenthood. She firmly believed in the "my body, my choice" mantra, and fought for our bodily autonomy. Thanks, Margaret!
Sally Ride
In 1977, the NASA program decided that having a sausage party in space wasn't enough — they needed women on their team as well. That is how the world met the amazing Sally Ride who would end up being the first American female in space. Not only that, she made science and math cool for girls. She came up with the EarthKAM project that allowed kids to take pictures of earth remotely via a camera on the International Space Station. She was a huge champion for encouraging girls to enter math and science career fields until her death in 2012.
A New York native with roots in the Caribbean, Lorde would grow up to become a powerful voice in the feminist and civil rights movements with her masterful poetry and outspoken ideas on equality. She used her poetic gifts to express anger over and protest the racism and sexism she experienced and witnessed throughout her life. Lorde's mic-drop words and ideas helped her to lead an independent life identifying as a black lesbian poet in the 1950s when LGBT rights were just taking root in the United States. She studied in Mexico and later taught in Berlin and wrote and published an impressive body of poetry and prose that helped to shape contemporary feminist and black feminist thought and which is still being poured over by scholars today.
Sylvia Rivera
Rivera has been called the Rosa Parks of the modern transgender movement, and for good reason — she was one of the loudest, proudest, and fiercest voices of the early days of the transgender rights movement. She advocated for what she called her half-sisters and half-brothers to be given equal rights and access to proper health care, education, and legal defense. But most notably, and this why she was so damn badass, she fought until her death to defend and protect drag queens and drag culture from being erased through assimilation as gay culture slowly became more mainstream. She has been routinely dismissed in history as a loud voice in issues of poverty and discrimination experienced by people of color, but the fruit of her labor lives beyond her death as we are now seeing transgender equality and acceptance finally being addressed on a national level.
Kathrine Switzer
Have you ever run a marathon? It's on my life bucket list. Back in 1967, Kathrine Switzer wanted to cross that epic to-do off her bucket list as well, and she became the first woman to enter the prestigious Boston Marathon, which had been a male-only event for over 70 years prior. Some of the ridiculous reasons given for why women couldn't compete included stupid shit like their uterus might fall out (I'm not even kidding). So, Switzer entered the race by signing her name K.V. Switzer, and the judges, obviously thinking she was a man, let her in. Not everyone was happy about a female runner competing; in fact, an organizer of the marathon, Jock Semple, actually physically attacked her during the race. Yeah. You read that right. In a now famous series of images and film footage, Switzer was nearly run down by a crazy dude wanting to keep the marathon as "no girls allowed." Well, fuck that noise. Girls everywhere can thank Switzer for her bravery in opening up another door in sports for female competitors.
Maud Wagner was the first known female tattoo artist in the United States. She broke conventional rules of female beauty and became a renowned artist who traveled in circuses and even vaudeville houses at the turn of the 19th century. Even by 2016 standards, her photos are enormously badass. Now moms can rock tattoos without guilt as that ridiculous taboo about female tattoos is quickly disappearing. It started with women like Maud who said "fuck the patriarchy" and embraced art for all bodies.
Rachel Carson
Move over, Stephen King, Rachel Carson has you beat by a long shot for the world's scariest book, Silent Spring. Published in 1962, this first of its kind environmental science book showed clear evidence of how humans are directly responsible for the deterioration of our natural environment. She famously pointed her finger at pesticides and chemical companies, and by doing so, she helped to usher in the era of environmental conservation, something that we all worry about. Carson is a modern day hero for her brave work in speaking up against special interests making a buck at the expense of public safety.
Betty Friedan
Ever hear of "the problem with no name"? Well, most women in the 20th century did, and Friedan answered it with her book, The Feminine Mystique, in which she shouted from the rooftops that women were not meant to be caged up in suburban houses where they pop out children, bake shit, and service their husbands. Nope! The second wave feminist era exploded onto the political scene thanks in large part to her book. Go read it. It will make you think, make you cry, and make you scream because large parts of it are still effing relevant to women in 2016.
You know her work even if you don't know her name. Maya Lin, at the tender age of 21 and still in art school, beat out more than 1,400 other applicants and won a prestigious grant for a public design competition for the Vietnam Veterans Memorial. Can you imagine that kind of pressure? When her work was unveiled it was met with a huge amount of controversy, because somehow being a woman, being young, and being Asian were all beyond offensive to her opponents. Lin is having the last laugh as her design became the internationally acclaimed Vietnam Veterans Memorial in Washington, DC, and in 2015, 5.6 million visitors paid homage to the fallen.
Ruth Bader Ginsburg
If badass comes with a cape then it needs to go to RBG stat. Ginsburg, a feminist lawyer and Supreme Court Justice, spent her early law days fighting for women's rights, and in 1993 she was appointed by President Bill Clinton to join the Supreme Court where she has consistently been a feminist thorn in the conservative sides of her male counterparts. It will be a sad day when she retires from the bench, but in the meantime girls and women everywhere can look to her to speak her mind with the full weight of the most powerful court in the country behind her.
If you've been following the news at all, then you know that the men and women of Standing Rock Sioux Reservation are about as badass as they come, but did you know that some of the toughest souls defending their rights to water are young women? That's right, say hello to Lauren and Jasilyn, two of the toughest modern day warriors you'll ever meet. Together they worked to keep their camp running while also helping to keep the organized efforts of their tribe going. You want to know what badass looks like? It looks like these two brave young women right here fighting for their community.
This article was originally published on