Dad's Final Birthday Note To His Daughter Is Making Twitter Weep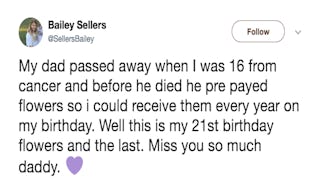 Image via Twitter/Bailey Sellers
Her dad made sure she had birthday flowers every year until she turned 21
Feeling the pain that comes with losing a parent is something you never outgrow. Through every milestone or life event, their absence is always present even when they are not. Bailey Sellers lost her father when she was just 16 years old — though he made sure she would always feel like he was still with her for years to come.
In a similar vein to P.S. I Love You, every year on her birthday after he died Bailey received flowers from her dad. She received her last bouquet and message from him when she turned 21 this week.
Her dad's letter is just so beautifully sad. Here's what the card says in full:
Bailey,
This is my last love letter to you until we meet again. I do not want you to shed another tear for me my baby girl, for I am in a better place. You are and will always be the most precious jewel I was given. It is your 21st birthday and I want you to always respect your momma and stay true to yourself. Be happy and live life to the fullest. I will still be with you through every milestone, just look around and there I will be. I love you Boo Boo and Happy Birthday!!!
Daddy
Hope you've got some Kleenex handy, or at least a shirt with sleeves. Whew. Bailey's tweet quickly went viral, delivering a digital gut-punch to all of Twitter.
Let's all just send one big, mental internet hug over to Bailey, huh? Shall we?
https://twitter.com/jetpack/status/934218864635678720
https://twitter.com/jetpack/status/934264957771886592
This is so true. Her dad must have been a thoughtful, loving, selfless kind of dad.
https://twitter.com/jetpack/status/934214211743506433
Some people shared their own similar stories of loss.
People everywhere were just truly, deeply touched by the story.
It's heartbreaking, isn't it? No matter how old we get, we just want to know we're loved. Especially by our parents. Though nothing can mend the hole her dad left in her heart, at least Bailey will always know how much she meant to her dad.