Alec Baldwin & Daughter Ireland Defend Hilaria Over Fake Accent Drama
by Christina Marfice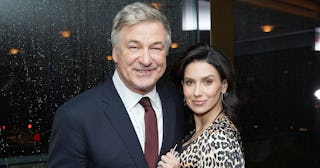 Sean Zanni/Patrick McMullan/Getty
After Hilaria Baldwin was accused of faking her Spanish accent, her family jumped to her defense online
It's that weird week between Christmas and New Year's when nothing feels quite real, and boy is today's news reflecting that. Hilaria Baldwin is in the middle of a very bizarre scandal in which someone went viral for accusing her of faking her accent and Spanish heritage, and now her family is coming to her defense online. Yeah, it's all as strange as it sounds.
To catch you up, Hilaria was trending on Twitter over the weekend after users started a thread where they posted videos showing her speaking with a Spanish accent, and then later, speaking English with no accent. The thread stated that Hilaria grew up in Massachusetts and that her claims of Spanish heritage were a "grift."
On Sunday, her husband, Alec Baldwin, posted a nearly nine-minute video to Instagram coming to her defense.
"We live in a world now where we're hidden behind the anonymity of social media. People feel that they can say anything," he said. "They probably would like to do anything if they weren't at risk of getting caught and going to prison."
Alec continued, "Because they can't do that, because that involves real commitment to do something, to express those feelings, they say things, no profile picture very often, sometimes yes, no identifying features there, hidden behind the anonymity of social media, they want to just shoot it all over you and spray it all over you, their venom and their hate."
Can't really argue with that, I guess. But the main point that Alec was trying to get to is that you should be skeptical of things you read online. In this case, maybe a random person on Twitter isn't the authority on all things Hilaria.
"You have to consider the source," he said. "There's things that have been said lately about people that I love, that I care about deeply, which are ridiculous."
Alec's daughter Ireland, whose mother is Kim Basinger, also came to her stepmom's defense. She posted a series of videos to her Instagram stories saying it was "sad and pathetic" that strangers were willing to dig so deeply into Hilaria's life.
"She is a good person," Ireland said. "She's a caring person who has always respected my relationship with my dad and I have a great relationship with her… Hilaria is a wonderful mother who takes great care of her kids and she takes great care of my dad and that's really all that matters to me."
Hilaria took to her own Instagram over the weekend, posting a video to tell a little bit about herself and clear up some of the controversy. In the video, she admitted that her real name is Hillary, and she was, in fact, born in Massachusetts.
"My parents and sibling live in Spain and I chose to live here, in the USA," she said. "We celebrate both cultures in our home — Alec and I are raising our children bilingual, just as I was raised. This is very important to me. I understand that my story is a little different, but it is mine, and I'm very proud of it."
Hilaria continued, "Yes, I am a white girl. Europe has a lot of white people in there. My family is white. Ethnically, I am a mix of many many many things. Culturally, I grew up with two cultures. So it's really as simple as that."
Maybe that will clear up this whole, strange story.