Barack Obama's V-Day Tribute To His Family Is The Jolt Of Joy You Need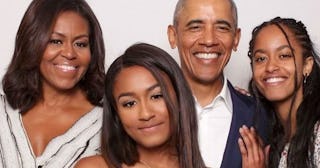 Barack Obama Instagram
The Obamas trade sweet social posts for Valentine's Day 2021
Need an example of the ideal Valentine's Day social post for the loves in your life? Look no further than the Obamas matching V-day tributes. Short, sweet, joyful, an expression of a secure attachment style — what's not to love about the Obamas' public displays of affection on social media?
The Obamas have been married since 1992 and celebrated their 28th wedding anniversary last October and on Valentine's Day 2021, Barack took to Instagram to tribute the women in his life, which includes his lovely wife, and his daughters, 22-year-old Malia and 19-year-old Sasha.
"Happy Valentine's Day to the three who never fail to make me smile. Your dazzling light makes everything brighter," Barack shared online. Awww, thanks dad!
And since we can always count on a one-two punch of joyful Obama family content on holidays, Michelle tributes her husband by writing, "Happy Valentine's Day, [Barack]! Life is always brighter when I'm by your side."
Every anniversary, birthday, Mother's Day, and Valentine's Day, these two highlight their love on social media — modeling a beautiful and strong relationship for the world to see.
On her birthday last month, Barack serenaded his wife, saying, "every moment with you is a blessing."
On their anniversary back in October, Michelle shared how she fell in love with Barack, "I love [Barack] for his smile, his character, and his compassion," writing how she is "so grateful to have him as a partner through everything life throws at us."
For his part, Obama gushed that "Every day with [Michelle] makes me a better husband, a better father, and a better human."
Not gonna lie, when I bust out that Hallmark card every year, I'm like, lemme make sure I don't just write the same shit I did last year, but the Obamas are like, an endless well of lovely devotionals. You really love to see it.
Let's see what Michelle said to Barack in 2019? "27 years ago, this guy promised me a life full of adventure," Michelle wrote on Instagram. "I'd say he's delivered. Here's to our next chapter of becoming empty nesters and discovering what's next — while still feeling the magic that brought us together all those years ago. Happy anniversary, Barack." Beautiful.
In this COVID-era Valentine's, the joy may not come as readily as it has in the past, so we thank the Obamas for a little dose of love and a hit of dopamine on this time-honored holiday.