The 11 Books Barack Obama Recommends You Read This Summer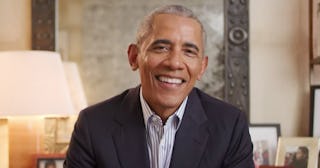 American Library Association/YouTube
As part of his annual tradition, the former President also shared his summer playlist
It's summer, and you know what that means: It's time for former President Barack Obama to share his summer reading list and his summer playlist. And this year, they do not disappoint.
"While we were still in the White House, I began sharing my summer favorites — and now, it's become a little tradition that I look forward to sharing with you all," Obama wrote on Twitter. "So, here's this year's offering. Hope you enjoy them as much as I did."
On Obama's summer reading list, you'll find everything from historical fiction (At Night All Blood Is Black by David Diop) and short stories (Land of Big Numbers by Te-Ping Chen) to New York Times bestsellers (Empire Of Pain by Patrick Radden Keefe) and books written by Pulitzer Prize-winning authors (Under a White Sky: The Nature of the Future by Elizabeth Kolbert).
"Whether you're camped out on the beach or curled up on the couch on a rainy day, there's nothing quite like sitting down with a great book in the summer," Obama wrote on Instagram.
Here's the full list:
"For four decades now, Ishiguro has written eloquently about the balancing act of remembering without succumbing irrevocably to the past," The New York Times' book review states regarding Ishiguro's best-selling novel. "Memory and the accounting of memory, its burdens and its reconciliation, have been his subjects… Klara and the Sun complements [Ishiguro's] brilliant vision…There's no narrative instinct more essential, or more human."
Shortly after, Obama shared his summer playlist — and per usual, it's an eclectic mix of oldies, current top hits, and everything in-between.
"With so many folks getting together with family and friends, there's a lot to celebrate this summer," Obama wrote. "I put together a playlist of some of the songs I've been listening to lately — it's a mix of old and new, household names and emerging artists, and a whole lot in between."
From Silk Sonic (Bruno Mars and Anderson .Paak) and H.E.R. to The Rolling Stones and Bob Dylan, listen to Obama's 38-song summer playlist on Spotify above.