100+ Memorable Beach Quotes That'll Make You Book Your Next Sunny Vacation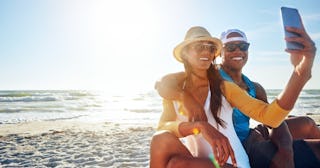 gradyreese/ Getty Images
Ahh, there's nothing like a day at the beach. Just picture it: Sand in your toes, the cool ocean breeze against your skin, and the warm sunshine on your face. If that mental image doesn't make you want to cash in your air miles for an all-inclusive beach vacay, then maybe you'll be inspired by the happy beach quotes that we rounded up below. This way you can enjoy the sand and surf without using SPF.
Winter is gone, and time for summer! After a long chilly season, a #beachday is what everyone needs. Get ready for some fun in the sun and snap a few pics of your gorgeous glow. And caption it, "good times and tan lines!" After being cooped up in the house, it's safe to say we can all use some vitamin D. So, take some photos and add some razzle dazzle to your pics by using these inspirational beach quotes below to bring some depth to your sandcastle or bikini pic. Whether it's a vacay with bae or a trip with the girls, we have romantic beach quotes and phrases that'll give your Insta influencer energy. With these captions, you'll have all your friends sliding into your DMs to ask to come to the next outing. Let's face it, a picture is only as good as its caption, and we want to make sure your entire post is as chic as you.
There's no time like the present, after all. Did you know there are legitimate health benefits of going to the beach? Research consistently suggests that a trip to the shore has soothing properties. It can also stave off sadness and depression. Not to mention that Vitamin D, which you'll get soaking up the sun, does a ton of good — from building immunity to growing healthy bones and teeth.
RELATED: 100+ Self Care Quotes To Soothe Your Mind, Body, And Soul
Keep reading to get the beach vacay started in your brain.
"You can't stop the waves, but you can learn to surf." — John Kabat-Zan
"At the beach, life is different. Time doesn't move hour to hour but mood to moment. We live by the currents, plan by the tides and follow the sun." — Sandy Gingras
"When you walk on the beach at night, you can say things you can't say in real life." — Jenny Han
"Long walks on the beach are the supposed holy grail of a romantic evening. The beach becomes a kind of utopia — the place where all our dreams come true." — Roxane Gay
"The beach is not a place to work; to read, write or to think." — Anne Morrow Lindbergh
"Take time in a place you love, restore your spirit on the beach." — Luanne Rice
"There's no place like home except for the beach." — Unknown
"Come walk with me, take off your shoes, let's walk the beach with only the moon to light the path and waves to hear you tell me you love me. Why does the ocean rock the moon to sleep every night? So the sun will wake and kiss the beach." — J. Henson
"At night, when the sky is full of stars and the sea is still, you get the wonderful sensation that you are floating in space." — Natalie Wood
"Yes, to dance beneath the diamond sky with one hand waving free/Silhouetted by the sea, circled by the circus sands/With all memory and fate driven deep beneath the waves/Let me forget about today until tomorrow." — Bob Dylan
"It is easier to do nothing by the sea than anywhere else.. because bathing and basking on the shore cannot be considered an employment but only an apotheosis of loafing." — E.F. Benson
"Because there's nothing more beautiful than the way the ocean refuses to stop kissing the shoreline, no matter how many times it's sent away." — Sarah Kay
"Every sunset brings the promise of a new dawn." — Ralph Waldo Emerson
"Sky above, sand below, peace within." — Unknown
"I read and walked for miles at night along the beach, writing bad blank verse and searching endlessly for someone wonderful who would step out of the darkness and change my life. It never crossed my mind that that person could be me." — Anna Quindlen
"The beach is definitely where I feel most at home. It's my oxygen. I forget how much I need it sometimes when I'm away working." — Behati Prinsloo
"To escape and sit quietly on the beach — that's my idea of paradise." — Emilia Wickstead
"The sky broke like an egg into full sunset and the water caught fire." — Pamela Hansford Johnson
"The waves of the sea help me get back to me." — Jill Davis
"If you need me, call me on my shell." — Unknown
"The ocean stirs the heart, inspires the imagination and brings eternal joy to the soul." — Robert Wyland
"When I admire the wonders of a sunset or the beauty of the moon, my soul expands in the worship of the creator." — Mahatma Gandhi
"When the sun has set, no candle can replace it." — George R.R. Martin
"Have you ever just sat and listened to the waves rolling in, it is like an orchestra, beautiful relaxing music." — Catherine Pulsifer
"It was as if when I looked into his eyes I was standing alone on the edge of the world…on a windswept ocean beach. There was nothing but the soft roar of the waves." — Anne Rice
"We know only too well that what we are doing is nothing more than a drop in the ocean. But if the drop were not there, the ocean would be missing something." — Mother Teresa
"In every outthrust headland, in every curving beach, in every grain of sand there is the story of the earth." — Rachel Carson
"Mightier than the waves of the sea is His love for you." — Psalm 93:4
"The beach is truly home, its broad expanse of sand as welcoming as a mother's open arms. What's more, this landscape, which extends as far as the eye can see, always reminds me of possibility." — Joan Anderson
"Why do we love the sea? It is because it has some potent power to make us think things we like to think." — Robert Henri
"An ocean breeze puts a mind at ease." — Unknown
"If there's heaven for me, I'm sure it has a beach attached to it." — Jimmy Buffett
"No words can express, The depth of her contentment, As she walks along the beach. As the waves lap against the shores, they create the rhythm of her life. Balmy breeze kiss, Her sun-bronzed skin, And she wonders… could there ever be a greater destiny, Than to be born with a love, For the treasures of the sea? Here, she is home." — Suzy Toronto
"Dance with the waves, move with the sea. Let the rhythm of the water set your soul free." — Christy Ann Martine
"I love the beach. I love the sea. All my life I live within — in front of the sea." — Rafael Nadal
"After a visit to the beach, it's hard to believe that we live in a material world." — Pam Shaw
"To myself I am only a child playing on the beach, while vast oceans of truth lie undiscovered before me." — Isaac Newton
"I followed my heart, and it led me to the beach." — Unknown
"I still love things that you don't even need to pay for. Going to the beach and being around five of your friends and having a good time means so much more than going out and spending hundreds of dollars." — Maria Sharapova
"On these magic shores, children at play are for ever beaching their coracles. We too have been there; we can still hear the sound of the surf, though we shall land no more." — J.M. Barrie
"The true beauty of a woman can be observed when she has spent the day at the beach." — Troian Bellisario
"Come to the beach, where the sea is blue, and little white waves come running at you. A wave comes splashing, over your toes. You just stand still, and away it goes. We'll build a castle down by the sea, and look for shells if you'll come with me." — Unknown
"Sometimes just being on a beach with my loved ones is all the adventure I need." — Guy Laliberte
"Where does a wise man kick a pebble? On the beach. Where does a wise man hide a leaf? In the forest." — G.K. Chesterton
"I thought of you and how you love this beauty, And walking up the long beach all alone, I heard the waves breaking in measured thunder As you and I once heard their monotone. Around me were the echoing dunes, beyond me The cold and sparkling silver of the sea — We two will pass through death and ages lengthen Before you hear that sound again with me." — Sarah Teasdale
"The ocean makes me feel very small and makes me put my whole life in perspective." — Beyoncé Knowles
"Beaches are a treasure – cherished by most, exploited by some, enjoyed by all." — Orrin H. Pilkey
"On the beach, you can live in bliss." — Dennis Wilson
"The beach represents all the children of the world." — Gertrude Ederle
"A fragrant breeze wandered up from the quiet sea, trailed along the beach, and drifted back to the sea again, wondering where to go next. On a mad impulse it went up to the beach again. It drifted back to sea." — Douglas Adams
"I honestly think the beach is the only place children actually entertain themselves." — Donna McLavy
"The beach is a great place to relieve the soul-crushing stress you build up in the traffic going to the beach." — Unknown
"The beach is a place of solitude where I can set my spirit free and relax." — M.L. Borges
"My dream is to have a house on the beach, even just a little shack somewhere so I can wake up, have coffee, look at dolphins, be quiet and breathe the air." — Christina Applegate
"To go out with the setting sun on an empty beach is to truly embrace your solitude." — Jeanne Moreau
"Total physical and mental inertia are highly agreeable, much more so than we allow ourselves to imagine. A beach not only permits such inertia but enforces it, thus neatly eliminating all problems of guilt. It is now the only place in our overly active world that does." — John Kenneth Galbraith
"A day at the beach is never lost time. When the warm grains of sand touch our hearts, we know we're in the right place." — Unknown
"I could never stay long enough on the shore; the tang of the untainted, fresh, and free sea air was like a cool, quieting thought." — Helen Keller
"I like anywhere with a beach. A beach and warm weather is all I really need." — Rob Gronkowski
"A beach is not only a sweep of sand, but shells of sea creatures, the sea glass, the seaweed, the incongruous objects washed up by the ocean." — Henry Grunwald
"I look my best when I'm totally free, on holiday, walking on the beach." — Rosamund Pike
"My life is like a stroll upon the beach, as near to the ocean's edge as I can go." — Henry David Thoreau
"May you always have a shell in your pocket and sand in your shoes." — Unknown
"If I'd learnt one thing from travelling, it was that the way to get things done was to go ahead and do them. Don't talk about going to Borneo. Book a ticket, get a visa, pack a bag, and it just happens." — Alex Garland
"I pass my time in the open air on the beach when it is really heavy weather or when the boats go out fishing." — Claude Monet
"Only at the beach can we go a splishin' and a splashin'." — Kate Summers
"Sunshine and waves are like bacon and eggs." — Theodore W. Higginsworth
"You all want to know what my dream is? Very simple. To walk along the beach, holding the hand of my lover." — Michelle Bachelet
"The sea does not reward those who are too anxious, too greedy, or too impatient." — Anne Morrow Lindbergh
"The sea, once it casts its spell, holds one in its net of wonder forever." — Jacques Cousteau
"No computers, no phone calls, no problems at the beach, only sunshine and smiles allowed." — Catherine Pulsifer
"There can't possibly be anything more beautiful than Seaside Beach at sunset." — Bryn McCarren
"Sunsets are proof that no matter what happens, every day can end beautifully." — Kristen Butler
"Peace is seeing a sunset and knowing who to thank." — Amish Proverb
"We dream in colors borrowed from the sea." — Unknown
"Don't grow up too quickly, lest you forget how much you love the beach." — Michelle Held
"They didn't know why these things were funny. Sometimes you laugh because you've got no more room for crying. Sometimes you laugh because table manners on a beach are funny. And sometimes you laugh because you're alive, when you really shouldn't be." — Terry Pratchett
"Individually, we are one drop. Together we are an ocean." — Ryunosuke Satoro
"Dance with the waves, move with the sea. Let the rhythm of the water set your soul free." — Christy Ann Martine
"Advice from the Ocean: Be shore of yourself. Come out of your shell. Take time to coast. Avoid pier pressure. Sea life's beauty. Don't get so tide down on work that you miss out on life's beautiful waves." — Unknown
"Do I love you? My God, if your love were a grain of sand, mine would be a universe of beaches." — William Goldman
"What I want in a good beach read is sunshine, drama, easy-reading and transportation to another world and other people's problems." — Jane Green
"One cannot collect all the beautiful shells on the beach. One can collect only a few, and they are more beautiful if they are few." — Anne Morrow Lindbergh
"The beach is not always a place, sometimes it's a feeling." — Unknown
"Once your feet have touched the warm sun drenched sand of the seashore, you will never ever be the same." — Patsy Gant
"Every time we walk along a beach some ancient urge disturbs us so that we find ourselves shedding shoes and garments or scavenging among seaweed and whitened timbers like the homesick refugees of a long war." — Loren Eiseley
"A pool just isn't the same as the ocean. It has no energy. No life." — Linda Gerber
"A kiss on the beach when there is a full moon is the closest thing to heaven." — H. Jackson Brown Jr.
"Live in the sunshine, swim the sea, drink the wild air." — Ralph Waldo Emerson
"Every time I stand before a beautiful beach, its waves seem to whisper to me: If you choose the simple things and find joy in nature's simple treasures, life and living need not be so hard." — Psyche Roxas-Mendoza
"Friends, sun, sand and sea. That sounds like a summer to me." — Unknown
"The beach to me is a sacred zone between the earth and the sea, one of those in-between between places where transitions can be experienced — where endings can be mourned and beginnings birthed. A walk along the beach offers the gift of the unexpected." — Joan Anderson
"You're not a wave, you're a part of the ocean." — Mitch Albom
"The three great elemental sounds in nature are the sound of rain, the sound of wind in a primeval wood, and the sound of outer ocean on a beach." — Henry Beston
"Walking on the beach brings a smile to my face.
The beach where children play and parents are not in the rat-race. Everyone is happy on that day!" — Catherine Pulsifer
"Beaches are God's poetry." — Steve Maraboli
"The world has enough beautiful mountains and meadows, spectacular skies and serene lakes. It has enough lush forests, flowered fields, and sandy beaches. It has plenty of stars and the promise of a new sunrise and sunset every day. What the world needs more of is people to appreciate and enjoy it." — Michael Josephson
"The sea does not reward those who are too anxious, too greedy, or too impatient. One should lie empty, open, choiceless as a beach – waiting for a gift from the sea." — Anne Morrow Lindbergh
"Some beach somewhere, there's a big umbrella casting shade over an empty chair. Palm trees are growing, warm breezes blowing. I picture myself there, some beach somewhere." — Unknown
"The sun shines everywhere, not just at the beach." — Brande Roderick
"Our memories of the ocean will linger on, long after our footprints in the sand are gone. " — Unknown
This article was originally published on