Football Season Canceled For Young Kids Who Protested National Anthem
by Mike Julianelle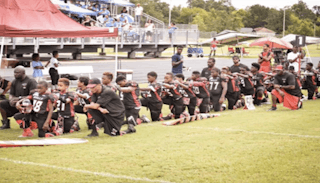 Image via Twitter
A team of 11 and 12-year-olds had their football season canceled after kneeling during the national anthem
Following the lead of NFL player Colin Kaepernick, a football team made up of young kids kneeled during the playing of the national anthem to protest America's treatment of its black citizens. And now they're paying the price.
As reported by the Beaumont Enterprise out of Beaumont, Texas, the Beaumont Bulls senior league football team had their season ended early after the players' protest caused conflict among the team, its coaches, and the organization.
Head coach Rah-rah Barber explained in a September interview that his team, part of the Bay Area Football League, decided to kneel at their September 10th game for the same reasons San Francisco 49er QB Colin Kaepernick, and several other players across the NFL, peacefully and silently protested the Star-spangled Banner.
The players' parents approved. But not everyone did.
According to April Parkerson, the parent of one player, the board of the league canceled the season over the protest. But according to Seterria Anderson, a member of the board and also a parent of a Bull, said the team disbanded after several players quit due to Coach Barber pressuring those who did not participate in the protest at the September 17th game. The board subsequently removed Barber from the team, for creating a "hostile mood."
There's a lot of conflicting reports here, including a column in the New York Daily News that stated that many parents were banned from games and practices. In the Beaumont Enterprise, Parkerson and Anderson insist that only Parkerson, a vocal supporter of the protest, was banned.
Regardless of who is to blame, this is a real shame. If those kids wanted to peacefully protest something they believe in, good for them. But they should neither be pressured to participate in the kneeling nor have their season canceled as a result of it. In this case adults are both ruining the kids' fun and punishing them for standing up for something.
According to Barber, he and other members of the predominantly black team received threatening phone calls after the initial protest, which is disgusting and scary. This country was founded on the right for people to speak out, and regardless of whether you agree or disagree with their stance, good for these kids for making a stand. Also? These aren't adults getting paid millions for playing football, they're kids who just want to have fun, and are learning important lessons about social responsibility and civil rights.
The 11 and 12-year-olds (formerly) on the Beaumont Bulls, are learning the wrong lessons — from the sidelines. These kids should be back on the football field.
[free_ebook]