'Beautiful Boy' And The Reality Of Parents Dealing With Drug-Addicted Teens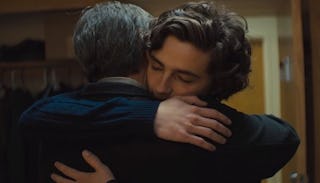 Image via YouTube
Steve Carrell and Timothée Chalamet will break your heart in 'Beautiful Boy' trailer
In a new trailer that has everyone talking, Steve Carrell and Timothée Chalamet star as father and son in Beautiful Boy, a film chronicling the life of a teenager struggling with addiction as his dad helplessly watches his son spiral out of control.
Based on the memoirs of real-life father and son David and Nic Sheff, Beautiful Boy look like it's going to be an intense, emotional journey. Unfortunately, it's one many parents and families are familiar with — addiction.
In the emotional trailer, we see Carrell's character struggle with trying to simply sit down and have a regular conversation with his teenage son. What starts as just a dad and son going out to breakfast quickly leads to an emotionally turbulent confrontation.
Adolescence is an important period of physical, social, psychological, and cognitive growth. Teenagers are developing their autonomy and often experiencing intimate personal relationships for the first time — and the influence of their peers can lead to experimentation with substances. While all of this is common and "normal," it becomes a problem when experimentation leads to abuse.
In data collected by the Department of Health and Human Services between 2013-2014, three percent of teenagers nationally reported needing but not receiving treatment for illicit drug use.
In Beautiful Boy, Chalamet's character endures multiple attempts at rehabilitation and sobriety from an addiction to methamphetamines. According to the National Institute of Drug Abuse For Teens, over 4,000 drug overdoses occur in teens each year — a sobering statistic and heartbreaking reality for many families.
Carrell's helplessness and heartache is arguably the most difficult part of the trailer to watch — especially from a parent's perspective. We see flashbacks to his son as a young boy, and Carrell's struggle to reconcile that sweet, young boy with the addict he is now.
Maybe it's a testament to the talent of Carrell and Chalamet. Or maybe it's just an accurate representation of the plight of many parents of teens who are struggling with addiction. But it's clear this father unconditionally loves both versions of his son.
Beautiful Boy comes to theaters this October.
This article was originally published on