Blake Lively's Bedhead Hairstyle Is The Trend We've Been Waiting For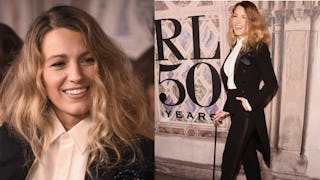 LEFT: Gary Gershoff/WireImage; RIGHT: Blake Lively/Instagram
Before motherhood, I was on-trend AF. Not only were my clothes stylish and in-season, but my hair was always on point. I had an actual hairstyle too, not just a messy top knot. (Although, I do wear a top knot like a boss.)
Now, however, my hairstyle (or lack thereof rather) is the opposite of on-trend. Because I can either get my children out the door in a timely manner each morning, or I can style my hair. Doing both is not an option unless I want to get up at 4 a.m., which I don't. I lose enough sleep being a mother, I'm not about to give up any more shut-eye for a couple of curls that will look like shit before 9 a.m. So, yeah, I'm the lady in the coffee line who looks like she just fell out of a tornado.
I won't lie, part of me misses being trendy and stylish, but it's just not a priority right now. I have to keep these little people clean and styled. Or at least wearing clothes that fit, which is harder than you might think. Don't even get me started on how fast their fingernails grow. If only there were a way to rock the season's hottest hairstyle with zero effort.
*Record screech*
Apparently, there is. Blake Lively is leading the charge into the future with the hairstyle trend exhausted moms have been waiting for. That's right, ladies, bedhead is where it's at this Fall.
During a recent appearance at Ralph Lauren's Spring 2019 show, Lively wore an awe-inspiring three-piece suit, completing the ensemble with a top hat and cane. But it wasn't her killer duds that had our jaws dropping—it was her hair!
In place of her usual long, soft waves, Lively opted for a more unkempt look with tousled waves and I-woke-up-like-this bedhead. GIRL, YES! I wake up like that every day. I am so here for this.
https://www.instagram.com/p/Bng5mo9jYJj/?taken-by=blakelively
Apparently, she has a well-paid stylist who teased her coif into the perfect shape, but we all know that look can easily be achieved with lackluster hygiene and a restless night of sleep. Come on, boo, we all know your secrets. Hell, most of us have been practicing for this moment for years.
Do you have any idea how much cooler I will be in the school drop-off line, when I'm twinning with Blake Lively, instead of someone who's been camping for the past 4 years? I mean, call somebody, because I'm about to be a star.
Ok, maybe I'm getting a bit ahead of myself, but bedhead being an accepted and celebrated hairstyle is a major game changer for moms everywhere. We may not bring the best brownies to the bake sale, or have the cleanest living room, but that's OK, because now we have a hairstyle to match.
This article was originally published on