Here Are The Celebrities Who Won Halloween This Year
by Valerie Williams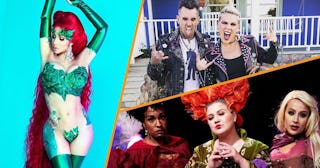 Cardi B/Pink/Kelly Clarkson/Instagram
Celebrities truly nailed Halloween this year
Halloween is officially over, but there's still plenty of good celebrity costume content popping up on the 'Gram this morning. Because sometimes, the internet is very good to us.
RELATED: 16 Adorable Baby Halloween Costumes You Can Buy Online
Let's start with The Rock who got beautifully trolled by BFF Kevin Hart's amazing recreation of his infamous 1994 fanny pack photo. It's honestly genius.
Of course, Pink's family brought it with a blend of punk rock and Spider-Man, because toddlers.
This separate mother-daughter shot is totally frameable.
As usual the Neil Patrick Harris and David Burtka fam nailed it with their art museum get-ups. Can they please adopt us? Please?
Cardi B's little girl Kulture went as Moana and we simply cannot with how gorgeous this child is. She doesn't seem too into the singing, but we'll let it go.
Kelly Clarkson performed "I Put A Spell On You" from Hocus Pocus and dressed as the witch sister in charge, Winifred Sanderson. We will be watching this on repeat all day today, thank you.
Not to be outdone by her little one, Cardi B shared her own costume — a super sexy version of Poison Ivy. Holy. Smokes.
Kristen Bell and her family went a more innocent (and festive) route by dressing up as Christmas… for Halloween? Whatever — they're so cute, we are just gonna roll with it.
Ciara and Russell Wilson went as Beyonce and Jay-Z. The photo says it all — they're totally killing it.
Ariana Grande's truly terrifying costume is based on an episode of The Twilight Zone. Not going to sleep tonight, this is completely creepy.
LeBron went as Edward Scissorhands and he looks so authentic and haunting AF.
Lizzo, naturally, went as a DNA test. Results? 100 percent the cutest costume imaginable.
Heidi Klum's Halloween enthusiasm always means her costume is amazing. This year is no exception — and it took 12 entire hours to create.
Kylie Jenner rocked a Marilyn look this year and honestly, she should wear it every day. She looks amazing.
https://www.instagram.com/p/B4SqupSHqvQ/?utm_source=ig_embed
And Andy Cohen's little guy Benjamin got to rock his very first Halloween costume with his day. Snoopy and Woodstock never looked so adorable.
Celebs and Halloween are a match made in social media heaven. November 1st is the best day for scrolling your Insta timeline thanks to their yearly dedication to sporting the most unique (and adorable) costumes.
This article was originally published on