In Squad We Trust! 160+ Best Friend Instagram Captions For Your Crew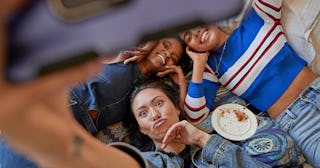 Klaus Vedfelt/Getty Images
Instagram and best friends go together like… well, Instagram and best friends. Where else will you post and share your amazing memories together? Taking bomb-ass photos is the easy part. Coming up with the perfect best friend Instagram captions? That's the tricky part. How can you put into words just how much your best friend means to you? And in a way that feels as clever and funny and cool and sweet as the two of you? While you could definitely go with one of those tried-and-true quotes from Oprah or Rumi, you might want to lead with something a little more you — and a little less talky.
After all, Instagram is the place for a short caption that captures your friendship in a sweet or funny phrase or sentence. Even a one-word caption can be pretty Gucci (that's what the kids call it these days, right?). If you need the best friend Instagram caption that will effortlessly epitomize you and your BFF, we've got you, boo.
Best Friend Instagram Captions to Try Now
Planning on doing a photo dump of you and your bestie's adventures today? Take one (or more) of these captions for a test drive.
Best friend: one million memories, ten thousand inside jokes, one hundred shared secrets.
Friends pick us up when we fall down, and if they can't pick us up, they lie down and listen for a while.
You don't need a king to be queen, or have queens around you.
Making memories with you is my favorite thing to do.
You are my best friend, my human diary, and my other half. You mean the world to me, and I love you.
Best friends believe in you when you don't believe in yourself.
Some special moments simply cannot be described in words.
Time and good friends are two things that become more valuable the older you get.
A good friend knows all your stories. A best friend helped you write them.
There are big ships and small ships. But the best ship is friendship!
Friends who slay together, stay together.
Friends knock on the door. Best friends walk into your house and start eating.
Hard times will always reveal true friends.
Rain or shine, I will be always here for you.
Friends never ask for food. Best friends are the reason you have no food.
Friendship isn't a big thing; it's a million little things.
Good friends are like stars. You don't always see them but you know they will be with you forever.
It's not how many friends you can count; it's how many of those you can count on.
F.R.I.E.N.D.S. — Fight for you. Respect you. Include you. Encourage you. Need you. Deserve you. Stand by you.
Happiness is a selfie with friends.
You can't do epic shit with basic people.
When worst comes to worst, squad comes first.
One friend can change your whole life.
Live for the moments you can't put into words.
And so the adventure begins.
We are best friends. Always remember that if you fall, I will pick you up… after I finish laughing.
You don't have to be crazy to be my friend. I'll train you.
Thank you for still being my friend, despite the fact that you are completely aware of every terrifying, raunchy, explicit detail of my life.
We will always be friends until we're old and senile. Then we will be new friends.
A best friend never gets tired of taking photos until she gets the best shot!
Real isn't who's with you at your celebration; real is who's standing next to you at rock bottom.
Real friends don't leave when life throws you a curveball; they're right there, ready to go to bat.
You'll know the people who feed your soul when you feel good after spending time with them.
Funny Instagram Captions for Friends
Let's be real; you spend most of your time with your best friend laughing until your stomach hurts. So, what's more fitting for a caption than something as hilarious as y'all are?
Friends are like condoms; they protect you when things get hard.
If you are lucky enough to find a weirdo, never them go.
No one will ever be as entertained by us as us
Best friends don't care if your house is clean. They care if you have wine.
We aren't Kardashians, but we've got 'em keeping up.
Friends don't let friends do silly things alone.
God made us best friends because He knew our moms couldn't handle us as sisters.
When I say I won't tell anyone, my best friend doesn't count.
We've been friends for so long I can't remember which one of us is the bad influence.
Friends give you a shoulder to cry on. But best friends are ready with a shovel to hurt the person that made you cry.
You are my best friend because I wouldn't dare be this weird with anyone else.
I don't know what's tighter, our jeans or our friendship.
I hope we're friends until we die. Then, I hope we stay ghost friends so we can walk through walls and scare people.
Strangers think I'm quiet and my friends think I'm outgoing, but my best friends know that I'm completely insane.
I'd take a nerf bullet for you.
True friends don't judge each other. They judge other people together.
I will text you 50 times in a row and feel no shame. You're my friend, you literally signed up for this.
Friends buy you food. Best friends eat your food.
Friends come and go like the waves of the ocean, but the true ones stay — like an octopus on your face!
Friends are like bras: close to your heart and there to support you.
Best friends are like therapists you can drink with.
We all have that one friend who never learned how to whisper.
A good friend knows how you take your coffee. A great friend adds booze.
Nobody really likes us except for us.
Sending our selfie to NASA, because we're stars!
One-Word Captions for Your Best Friend
They say a picture is worth 1000 words, so let your snapshot do most of the talking. These one-word captions pack a lot of sentiment without detracting from your photo.
Classy
Soulmate
Unforgettable
Moments
Complete
Buddies
Besties
Hi
Prom
Hustlers
Life
Daydreaming
Homecoming
Stupid
Legend
Sparkling
Obnoxious
Dizzy
Mushy
Gorgeous
Graceful
Dead
Elegant
Charming
Unusual
Flex
Obsessed
Bored
Misunderstood
Smile
Awesomeness
Unwind
Therapy
Inspired
Fearless
Nostalgic
Believe
Badass
Happy
Alive
Gang
Chillin
Us
Oops
Weirdos
Sisters
Secrets
Sisterhood
Classic
Reckless
Crazy
Vibes
Cheese
Swag
Perfect
Memories
Luxe
Family
Flawsome
Moments
XOXO
4ever
F.R.I.E.N.D.S
Framily
Inseparable
Short Captions for You and Your Best Friend
OK, so sometimes you need more than just one word — but you still don't want to write a frickin' novel. The following short captions are just right.
You're the Betty to my Veronica.
Our friendship knows no distance.
I get by with a little help from my friends.
Vacation mode: activated.
All the best people are crazy.
Happiness is a road trip.
Dear best friend, please stay in my life forever.
Real queens fix each other's crowns.
Besides chocolate, you're my favorite.
We go together like coffee and more coffee.
You're the Blair to my Serena.
Best friend? Nah. She's my sister.
My other half.
Partners in crime!
Collect moments, not things.
Be back never.
Let's wander where the wi-fi is weak.
Life's too short and so are we.
The "she" to my "nanigans."
No friendship is an accident.
Life is better with true friends.
I love my crazy best friends.
Sad to see you go.
Always together.
Your vibe attracts your tribe.
Friends that travel together stay together.
Live for the moments you can't put in words.
We go together like pizza and cheese.
One friend can change your whole life.
Friends till the end.
Wine + dinner = winners.
We go together like cupcakes and frosting.
I value your friend-chip.
Your vibe attracts your tribe.
In squad we trust.
No new friends.
You're my soulmate.
You're my person.
When you see her/him/them, you see me.
We can't answer the phone right now.
The Dionne to my Cher.
Two pretty best friends.
The Romy to my Michele (or vice versa).
You don't even need to ask; I got you.
Yes, we know how obnoxious we are together. No, we don't care.
We go together like eggs and bacon.
This article was originally published on