These Are The Bestselling Home And Kitchen Products On Amazon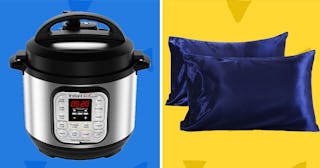 Amazon
These home and kitchen products are flying off of Amazon's virtual shelves
Sometimes shopping for your home is exhausting. If you want to take a short cut, head straight to Amazon's bestsellers section. All of these products are flying off of the site's virtual shelves — and they come with some glowing reviews to boot. Your house will thank you.
This mattress protector puts in the work. It protects against dust mites, fluids, urine, perspiration, allergens and bacteria. So, basically, feel free to spill away.
People are obsessed with this water filter. It'll last you for six months, is super easy to install, and cuts down on thirteen contaminants found in tap water.
It's not all that surprising that the Instant Pot is a bestseller. It can saute, steam, make yogurt, and has three slow cook heat settings. Essentially, it's all your cooking needs rolled into one nifty appliance.
Okay, let's get real here. Sometimes the bathroom smells. A lot. This aptly named "Poo-Pourri" will leave everything smelling like lemon citrus delightfulness – no matter how ill someone gets from their burrito dinner. Praise the lord.
Satin pillowcases are glorious for a number of reasons. First of all: hellooo silky softness. Second: they keep your hair muss-free and breakage-free. Third: you won't get any of those weird sleep lines which can lead to wrinkles. So many wins all around.
Speaking of bedtime, people are obsessed with this super soft, super cozy comforter. It's hypoallergenic, has eight corner loops for securing a duvet cover, and is the perfect transition for springtime sleeping.
This food scale is scratch-resistant, has an LCD screen, shuts off/turns on automatically, and can switch between pounds, ounces, fluid ounces, and milliliters.
Never worry about slipping on your bath mat again. This bad boy comes with 324 Gorilla Grip suction cups that will hold tight to the surface. It's also machine washable, anti-bacterial, and spans 35 x 16 inches for ultimate coverage.
Your morning eggs just got so much easier. This egg cooker helps make hard boiled eggs, soft boiled eggs, poached eggs, scrambled eggs, and omelets. It'll boil up to six eggs at a time and comes with (deep breath here): a poaching tray, omelet tray, 6 egg holder tray, measuring cup, and recipe book.
This robot vacuum does all of the dusting for you. It runs for 90 minutes before automatically recharging, picks up big and small particles, and can be used on both hardwood floors and carpets. While it's hard at work, you have some more important things to do…
Enjoy all of your brand-new household products and prepare to join their cult following in 3…2…1…
We may earn fees from purchases made via links on this page and affiliated sites. All opinions are our own.
This article was originally published on