Beyoncé's Foundation To Give $5,000 Grants To Families Facing Eviction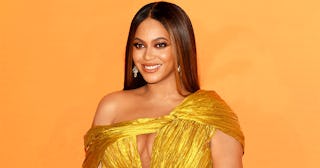 Gareth Cattermole/Getty
The iconic singer's Impact Fund will offer housing assistance to those facing financial difficulties due to the pandemic
If 2020 has become the year of one WTF moment after another, it has also become the year when unlikely heroes emerge. First it was Dr. Fauci appearing on any platform he could find to talk about the seriousness of the coronavirus. Then it was Dolly Parton donating funds for a desperately-needed COVID-19 vaccine. And now, Beyoncé's foundation will offer grants to families facing eviction during the coronavirus crisis. The program also aims to help people facing property foreclosure.
The news comes after some Americans voiced their frustration that the government failed to offer any assistance to people effected by the pandemic. And so our Queen Bey did what the President couldn't (or wouldn't): lead.
People reports the singer's BeyGOOD foundation has provided $10,000 grants to more than 250 small businesses (totaling a sum of at least $2.5 million with additional financial assistance to come), while also providing community members with food, water, household supplies, coronavirus testing and mental health support.
According to the magazine, the foundation announced that "Phase Two of the BeyGOOD Impact Fund will now help those impacted by the housing crisis. The housing moratorium is set to end on Dec. 26, resulting in mortgage foreclosures and rental evictions. Many families are impacted, due to the pandemic, [which has]resulted in job loss, sickness and overall economy downturn."
"Beyoncé is giving $5,000 grants to individuals and families facing foreclosures or evictions. All necessary documentation must be provided to the NAACP. [The] online application process opens Jan. 7, 2021 [and] 100 recipients will be selected. Grants [will be] disbursed in late January. Round two [of grant distribution] will [reopen] in February.
The Queen Bey and her BeyGOOD foundation ended the announcement with a word of encouragement: "Keep the Faith. Remain in Hope. Together we can all Help."
The Grammy-award winner has chosen to use her platform to highlight social and civil rights issues. When the Duchess of Sussex Meghan Markle was the target of media attacks, Bey chose to quietly offer support by giving an acceptance speech with a portrait of the duchess behind her. The British award was presented to the singer for Best International Group (acknowledging Knowles former group, Destiny's Child).
In 2015, she (alongside her husband Jay Z), have donated tens of thousands of dollars to bail out protesters in Ferguson and Baltimore who could not afford to do so themselves.
Beyoncé posted a memorial picture of Breonna Taylor, the young woman who was murdered by police officers in her home, on her Instagram feed.
She also posted a childhood picture of vice president-elect Kamala Harris after Biden was the projected winner of the 2020 election.
Sure to face criticism for speaking up, Beyoncé will most likely do what she does best. Twirl on her haters.