Celebs Share Pics After Beyoncé Gifts Them Items From Her New Ivy Park Line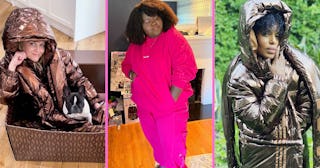 reesewitherspoon /gabby3shabby/kerrywashington /Instagram
Beyoncé has once again given a bunch of celebs items from her latest clothing line — and they're modeling it all online for us to drool over
Last year, Beyoncé gifted a whole bunch of celebs her entire Ivy Park clothing line and those celebs blessed us all with hilarious (and fashionable) unboxing vids to feast our eyes on. Now, she's sent items from her third collection called Icy Park to some select famous faces who are only too happy to model the attire for the masses.
Beyoncé has spent the last month or so hyping the new line on her own Instagram account. The clothing is now available online and in select Adidas stores.
Then Tina Lawson, the star's famous mom, took to the 'Gram to share promo footage for the line featuring none other than Blue Ivy herself. "My Beautiful grandbaby Blue Ivy looking like a little super model in her Ivy Park," she writes. Lawson shares that Blue "inserted herself into this shoot" and that "she was not supposed to be in it!" Which is the huge Main Character Energy that we'd expect from the daughter of actual legends.
And now, we have celebs showing off their own Icy Park duds and let me tell you, Beyoncé definitely knew what she was doing when she made her selections on who gets a sneak preview.
We have the always-stunning Viola Davis and her equally gorgeous 10-year-old daughter Genesis. She used the new outfits as an excuse for a little mother-daughter photoshoot. "Genesis and I love #WeAreIvyPark's new Icy Park collection!" she captions the post.
Gabourey Sidibe credits her fiance Brandon Frankel with making sure she gets hooked up with Ms. Carter's latest. "My mans @brandontour sent an email and bibbidy, bobbidee BOOPED me some @weareivypark and now I don't know how to act. Puttin all this in the prenup. Thank you @adidasoriginals and obviously @beyonce cuz I'm mos def finna do squats in these brown joints!" she writes.
https://www.instagram.com/p/CLNoMNBJhuX/
Laverne Cox. Flame emojis. Enough said.
Ciara also set everyone's timeline on fire showing off a sexy ensemble that fits like a second skin. I'll just live vicariously through her because I would 100% get trapped in it and have to spend the rest of my life in the same shiny outfit.
"I don't wanna take it off but it's very hot in my house," says Tracee Ellis Ross in a video showing off a very toasty-looking parka with a built-in scarf. "It's so me. I'm really appreciative Beyoncé, this is special."
Kerry Washington rocked the same parka and it sounds like she's ready to take it to the great outdoors. "Ready for a chair lift to take me up to the slopes!!! I'm sure that's what's she gonna send next, right?!" she writes. Hey, if anyone can send you a chair lift via FedEx, it's 'Yonce, ok?
And of course we have Reese Witherspoon, who was one of the lucky folks who got the entire line when Beyoncé first debuted her Adidas clothing. Now, she's happily turning the box into her "new home office" along with her pup. Sounds good to us.
Beyoncé, next time you send out samples of your loungewear, please think of us moms sporting the same hole-y leggings and ratty husband undershirts every day. We may not have social media clout, but we'd certainly appreciate being part of this exclusive club.