Bindi And Robert Irwin Celebrate Their Parents' Anniversary With Heartfelt Tributes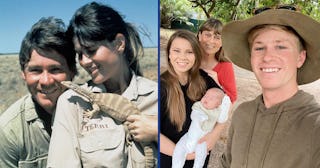 Bindi Irwin/Instagram
The siblings posted the sweet tributes on what would have been Terri and Steve Irwin's 29th wedding anniversary
What's not to love about the Irwin family? For many of us, we grew up watching "The Crocodile Hunter" himself, Steve Irwin, and his entire family; and since his untimely passing in 2006, we've only continued to celebrate the life of the former Australian zookeeper and TV personality. But none, obviously, have honored Irwin's life in such an impassioned way as his own children, Bindi and Robert Irwin. And now, in honor of what would have been their parents' 29th wedding anniversary, both Bindi and Robert have taken to social media to post sweet, heartfelt tributes.
Posted on Friday, Bindi shared a photo of her young parents posing with a reptile, captioning it, "Soulmates."
"Happy anniversary to my sweetheart parents," Bindi wrote. "Your love is the stuff of miracles."
Terri responded to the beautiful post, thanking her daughter for the tribute.
"Today marks 29 years since I married your dad," wrote Terri, who married Steve in 1992.
"He was a lot of amazing things, but most of all, he was fun," Terri continued. "Really, truly fun!"
Already getting choked up? Us, too.
Robert, on the other hand, posted a photo on Instagram of his mom playfully pushing Steve in a wheelbarrow, captioning the post, "Happy anniversary, Mum and Dad."
"This is my favourite photo ever," Robert added.
This is far from the siblings' first time honoring their late father. More recently, Bindi honored her dad in a big, moving way: via her daughter's name, Grace Warrior Irwin Powell.
"Grace Warrior Irwin Powell. Our graceful warrior is the most beautiful light," Bindi wrote of her daughter. "Grace is named after my great-grandmother, and relatives in Chandler's family dating back to the 1700s. Her middle names, Warrior Irwin, are a tribute to my dad and his legacy as the most incredible Wildlife Warrior. Her last name is Powell and she already has such a kind soul just like her dad. There are no words to describe the infinite amount of love in our hearts for our sweet baby girl."
"Love is not a big enough word," Terri tweeted at the time of the birth announcement.
"My heart is so incredibly happy," the proud grandma continued. "And I know that Steve would be beyond proud. Grace is the next generation to continue his mission and message of conservation. She chose her parents wisely. Bindi and Chandler are already the best parents ever!"
But the one that might win the award for most emotional tribute? The portrait Bindi shared last month, depicting her father holding his granddaughter on Mother's Day.
"Celebrating my first Mother's Day," Bindi captioned the commissioned artwork. "This day embodies the extraordinary gift of family.
"Thank you to 'The Monkey Brush' for bringing my family and Chandler's together in these stunning works of art. I wish we could all be together but sometimes life has other plans. To my beautiful daughter, always know that you are loved beyond description."