Kylie Jenner And Travis Scott Release Unseen Footage From Stormi's Birth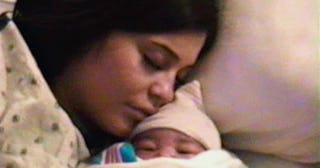 Netflix
In new footage of Stormi's birth, we get to see Kylie in her first moments as a mom
Kylie Jenner's beau, Travis Scott, has a new Netflix documentary called Travis Scott: Look Mom I Can Fly. And fans are extremely pumped over the inspirational film, merely because of what an intense and innovative performer he's known to be. But there's another reason for the excitement, too: some very poignant footage of Stormi's birth being featured.
Fans from Keeping Up With the Kardashians, as well as fans of Travis himself, are all pretty excited to see the cute video of Kylie and the brand new baby. Especially because, while we've certainly seen a ton of Kylie over the years, we've never seen her quite like this.
In the sweet footage, we get to see Kylie snuggling her baby for the first time. As every mom knows, those moments are so precious and it's clear that Kylie is just a puddle of post-birth-hormones and love for her sweet girl, Stormi. She also looks, understandably, a little tired. The video was initially shared in Kylie's Instagram stories and later reposted by a fan account so it won't ever expire, which is perfect, because we want to watch this sweetness on repeat.
https://www.instagram.com/p/B1s0RUhgG-b/
The clip also shows an emotional Travis, holding his face and looking nervous, as every dad-to-be totally gets. You can also hear cheering, happy family in the background.
While Kylie and Travis have had a bit of a roller-coaster relationship, complete with cheating rumors, and Kylie has definitely gotten some flack for her parenting style on occasion, it seems like they are doing more than fine as a happy little family. At least it appears that way from how Travis expresses his love to Kylie in the most adorable and over-the-top ways. Like, ya know, filling the house with more roses than you've ever seen. But hey, that's the Jenner life, baby.
https://www.instagram.com/p/B0y8EmenMGM/?utm_source=ig_embed
From all of the sweetness we get to see on social media and now, in the new film, it really looks as if the couple is more bonded than ever. Either way, we'll take the cuteness overload, and that includes all the adorable shots of this ridiculously cute baby girl.
https://www.instagram.com/p/B1FMz0cHKOO/
The kid clearly has star quality. How could she not? It's in her DNA.
The couple has definitely let us see a lot of their relationship journey, as well as Kylie's road to pregnancy and beyond. They shared an incredibly touching 11-minute video last year, which features footage from Kylie's own birth (complete with her big sisters nearby), and documents her pregnancy journey, too.
Fingers crossed that Travis and Kylie let us keep Keeping Up With Stormi, because we can't get enough.