30+ Sweet Birthday Greetings That Will Make Your Husband Melt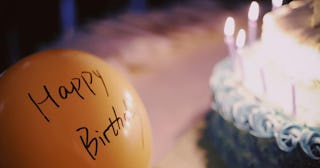 Photo by Raychan on Unsplash
Whether your husband prefers to celebrate his birthday with a wild party or a quiet night in, you probably want to make sure you take this opportunity to let him know how much he means to you. The tricky part is that expressing that to him isn't always easy. In case you need some help in that department, here are 31 birthday greetings for your husband that will brighten his day.
Dear husband, it is your birthday today. I wanted to wish you the very best, but you already have me. No need. Happy birthday.
You never cease to amaze me. Every day is like a new adventure with you by my side. Thank you for being here. I love you, and happy birthday.
You mean the world to me, honey. Your day means a lot to me as well. I want to use this opportunity to tell you how awesome you have been in our marriage. Happy birthday, sweetheart.
To think I wake up to your face every day is an elating feeling alone. I feel so lucky to have you and I am ready to keep up on this journey till eternity. Happy birthday, sweetheart. I love you.
Dear Hubby, my life became sweeter and better after I met you. You are a special kind of person and I appreciate you in my life. Happy birthday honey. May all your wishes come true.
When I count my blessings, I count you twice. You brought light and fragrance into my life when I needed it most. Happy birthday, love.
You are especially supportive, enthusiastic, empathetic, intelligent, creative, strong and resourceful. I cannot love you more. Happy birthday, my man.
With you by my side, I feel very safe and ready to take on any challenge or obstacle. You are an amazing teammate, and I love you for that. Happy birthday, dear.
Twenty-four hours is not enough to celebrate you; I celebrate you every day. But let me take today to remind you how much I love you. Happy Birthday, love.
Happy birthday to the most awesome, wonderful, outrageously funny, courageous, handsome and great hubby you are… Have an awesome birthday!
Whenever I'm having a bad day, I know that I can count on your love and affection to cheer me up. You make me feel special every day. Today, I want to take the opportunity to make you feel extra special.
Happy birthday to the most kind-hearted and thoughtful husband alive. Loving you is always easy.
I know you work hard and you're always finding new ways to make things work for your family. That's why you are the best! Happy birthday to my best friend, my husband.
I don't know how to put this but… you're kinda a big deal today. It's your birthday…and we shall celebrate by giving us both the gift of being extraordinarily hungover tomorrow! Happy birthday, husband!
Words are not enough, you need to look at my eyes and I believe that you'll get your answer that how much I love you. Wishing you a wonderful celebration.
Aspiration, admiration and inspiration. These are not just motivational words, but the feelings that you, my dear husband, invoke in my heart every day. Wonderful bday my love!"
Happy birthday, husband. You may be getting older but look on the bright side. You have a beautiful and wonderful wife to keep you company on the ride to old age.
I can't count how many times in a day I think of you. You're always on my mind and in my heart. For your birthday, I want to make it known that I love you more than life itself.
Growing old with you takes the sting out of old age. Enjoy your birthday.
Together we are inseparable. Together we are a team. Together we are just as hot as can be. I love you my sexy husband, happy birthday!
I'm so blessed that I'm married to my best friend. You have made my life complete and without you no one has this ability to do so. Best birthday, my love!
Happy birthday to the man I fell in love with years ago. I still love you more and more as each year passes. Happy birthday!
I can conquer the whole world with one hand tied behind my back, as long as the other is holding yours. Happy birthday!
Today is the perfect day to tell you how much brighter you make this world. I'm so lucky to have met you and I cherish every day with you, especially this one! Happy birthday!
It may be your birthday, but I'm the lucky one here. I got to spend another whole year with you, and hopefully many more to come. Happy birthday my love.
You irritate me, you frustrate me, you make me go mad. And that's how I want it to be throughout my life. Happy birthday, sweetheart.
Dear husband. You are getting a bit too old to party hard like we used to on your birthday. But I'm not so I'll have twice as much fun in remembrance of you. Happy birthday!
I am the best thing that ever happened to you. Happy birthday husband!
Maybe our lives on the earth move faster than we can imagine. But to me, every moment is pleasing to me because I've got a dashing and loving husband like you. Happy birthday!
Happy birthday to the best husband in the world. I feel so blessed to have found true love in your arms. I feel so proud to call you my husband. May you be blessed with all that you have ever dreamt of.
A husband so sweet, you're the icing on the cake that is my life. Thank you for being such a sweetheart! Happy birthday!
Related: 50+ Valentine's Day Messages for Your Wife That Cupid Would Be Impressed By
This article was originally published on