Black English Soccer Players Suffer Vile Racist Abuse After Euro Final Loss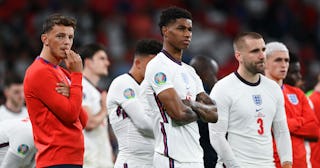 Shaun Botterill - UEFA/UEFA/Getty
England's leaders, including Boris Johnson and Prince William, have condemned the racist attacks against three of the country's Black national soccer players
Last night was the final match of the Euro 2020 soccer tournament — England vs. Italy in a nail-biter that went into extra time and ended in an agonizing penalty shootout. Italy ultimately won the match, and even though this is one of the most successful, decorated English teams in a generation, what came next is horrifying: Bukayo Saka, Marcus Rashford, and Jadon Sancho, three English players of color who missed their penalty kicks, became subject to an absolute onslaught of racist abuse online.
The three are incredibly gifted players, who shouldered the pressure of taking kicks that would determine their country's fate in its first final in 55 years. The pressure was immense. They stepped up only to be turned on by their own country and fans around the world. I'd ask how this is possible in 2021, but, well… *gestures broadly at all the systemic racism in the world, including my own home in the U.S.*
I'm not going to dignify the racist abuse these players faced by linking to any of it here. Instead, I'm going to focus on some of the reactions to it, which are the only glimmer of hope in this horrible situation.
The Football Association was quick to issue a statement saying it, "condemns all forms of discrimination" and "anyone behind such disgusting behavior is not welcome in following the team."
The English team's Twitter account shared the FA statement, and added, "We're disgusted that some of our squad – who have given everything for the shirt this summer – have been subjected to discriminatory abuse online after tonight's game. We stand with our players."
Some of the country's leadership got involved, including Prime Minister Boris Johnson and Prince William (though Prince William is also being criticized for being so "sickened" by this racism after the Royal Family gaslit Meghan Markle while she experienced racism from within its ranks).
Support also came from fans.
And journalists, especially sports broadcasters who had followed the English team's meteoric rise, spoke out against the racist abuse against some of its players.
MSNBC commentator Mehdi Hasan gave a touching monologue about how recently BIPOC people living in Britain — including himself — felt excluded from identifying as "English," and how this team helped change that by uniting Brits from all backgrounds.
Despite the attacks, this English team is one worth celebrating, and it's heartbreaking that such a successful showing on the world stage ended this way.