Dad Turns Bedsheets Into Board Games To Entertain Kids Staying In The Hospital
by Valerie Williams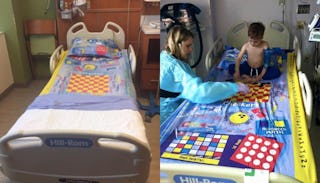 Image via Playtime Edventures
These genius board game bedsheets help keep kids busy in the hospital — or at home
A Charlotte, North Carolina dad had a pretty amazing idea to help little ones have fun while spending time in the hospital. He had always thought the hospital environment was boring and monotonous — so he decided to do something about it.
That's how Playtime Bed Sheets were born.
Kevin Gatlin is the genius behind Playtime Edventures, a company that creates and sells board game bedsheets for kids. They've become incredibly popular in hospital environments for obvious reasons, but any child can enjoy them.
The sheets are interactive featuring games and lessons for kids to play while they're spending time in bed. Gatlin first got the idea while visiting a friend's hospital child years ago. He told NewsWest9 that his own son came to mind. "What if this was my son? How would we preoccupy the time?" he thought. He says he and his wife began brainstorming on their way back from one of those hospital visits. "My wife used to utilize the bed with our son, they would play board games they would do homework assignments it was the biggest piece of furniture in the room," he says of his inspiration.
Two years later, after Gatlin had met with half a dozen teachers to hone in on what the sheets should have on them, his idea came to fruition.
"We put together bedsheets and slumber bags that cover everything from Geography, Math, Science, Grammar, word find games, over-sized game boards… all on a three-piece set," he explains.
"It's an unfortunate situation that a child is in," Gatlin says of the kids that have to stay in a hospital. "It's great for the child life coordinator and the nurses and doctors — it gives them a tool that they can use before they just poke the kid."
And enjoying those interactive sheets doesn't have to end when the child is discharged from the hospital. Often, the kids are allowed to take them home. "They don't go right back to school," Gatlin says. "So it gives them something to do while they're at home as well.
As of 2019, Gatlin says his sheets are in 10 hospitals that he's aware of, but people are able to buy them from the website, so he really doesn't know how far they've spread. "Individuals purchase our bedsheets online and they donate them to hospitals across the U.S.," Gatlin explains. "We've had our bedsheets purchased for hospitals internationally."
Gatlin tells Scary Mommy about the philosophy behind the sheets. "To a child, the bed is the most important piece of furniture in their life. It's not a place just for punishment or only to be used when they're sick or when it's time to go to sleep! We want our Playtime Bed Sheets to help create an environment where kids can continue to play, learn, sleep, and heal on their favorite piece of furniture!"
Gatlin notes that there are challenges when it comes to owning a business, but at the end of the day, it's all about the kids. "There's a lot of ups and downs — but when you notice a child utilizing your product for what it's meant for, that's priceless."
If you'd like to donate to Playtime Bed Sheets, you may do so here.
This article was originally published on