The New 'Bombshell' Trailer Is Out And The Women Are Perfectly Cast
by Christina Marfice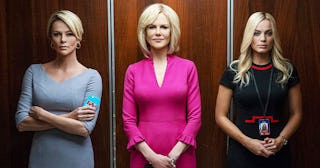 Lionsgate
The women of Bombshell are so perfectly cast, it's like watching the real scandal play out all over again
The first trailer for Bombshell is finally here, and if you weren't already stoked to see this movie, you are about to be.
Observe:
So, there's a lot to unpack here, but we're going to focus for a moment on one particular thing that has the entire internet going bananas: How Charlize Theron and Nicole Kidman have transformed to be perfect, dead ringers for the women they're playing in the movie.
Bombshell centers around three women.
The first is Gretchen Carlson, who is played by Kidman. Carlson was an anchor at Fox and the first woman to file a lawsuit against the network and its CEO, Roger Ailes, for sexual harassment. Her 2016 lawsuit kicked off the whole, enormous scandal that the movie is based on. Kidman looks so much like Carlson, it's almost like going back in time and turning on Fox News.
The second woman is actually fictional. Margot Robbie will play Kayla Pospisil, a new reporter at Fox who starts her job right around the same time the investigation into Ailes begins. Her character was created specifically for the movie, and there's a very creepy scene in the trailer that shows her meeting with Ailes who tells her she'll need to find a way to prove her loyalty to him. It's a very skin-crawly moment, as we imagine Bombshell will have many of.
And the third woman is Megyn Kelly, another Fox anchor who is being played by Theron. This is where we really see Hollywood magic at work because you can barely tell Theron apart from actual photos of Kelly at the time. It is uncanny how much Theron has been made to look like Kelly. Kelly was another major voice at Fox, and she also spoke out to accuse Ailes of sexual harassment.
In case you're foggy on the details of the case, it looks like the move will show the time that Carlson dropped a "bombshell" lawsuit, suing Fox News head CEO Ailes and alleging that she and other women at the network had endured years of sexual harassment.
The movie will follow the ensuing investigation that resulting in a disgraced Ailes being ousted from Fox, but not before what looks like some serious drama at the network, including women being encouraged to wear "Team Roger" shirts to show their support for Ailes, and the women who came forward being labeled as traitors to Fox.
We know now that the Roger Ailes scandal was central to the Me Too movement, but at the time, the women who bravely came forward clearly faced an uphill battle.
Bombshell hits theaters Dec. 20.