Boy Scouts Of America Files For Bankruptcy Amid Sex Abuse Lawsuits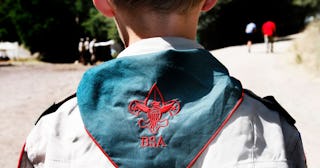 George Frey/Getty
Scouting programs are expected to continue operating as the Boy Scouts of America organization proceeds with bankruptcy filing
Facing hundreds of lawsuits that allege boys were sexually abused by scoutmasters and other leaders, the Boy Scouts of America national organization has filed for bankruptcy, hoping to be able to pay what could be an enormous victim compensation plan, but still continue operating in the future. The Associated Press reports this could be one of the most complex bankruptcy filings in history, as lawyers seek settlements on behalf of what is now thousands of men who say they were molested as scouts decades ago, and who are now able to sue because of changes in their states' statute of limitation laws.
Even as bankruptcy proceedings move forward, the Boy Scouts of America national organization says regular scouting activities shouldn't be affected
"Scouting programs, including unit meetings and activities, council events, other Scouting adventures and countless service projects, will continue throughout this process and for many years to come," a statement released by the Boy Scouts reads. "The BSA fully intends to maintain its commitments to its members, families, volunteer leaders, employees, retirees, donors and alumni to the fullest extent permitted by bankruptcy laws. The organization also will pay its vendors and partners for all goods and services delivered from today forward."
The statement also says that local councils are not included in the bankruptcy filing, since they operate separately from the national organization, both legally and financially.
"The BSA cares deeply about all victims of abuse and sincerely apologizes to anyone who was harmed during their time in Scouting. We are outraged that there have been times when individuals took advantage of our programs to harm innocent children," Roger Mosby, President and CEO of the Boy Scouts, said in a statement. "While we know nothing can undo the tragic abuse that victims suffered, we believe the Chapter 11 process – with the proposed Trust structure – will provide equitable compensation to all victims while maintaining the BSA's important mission."
Going to bankruptcy court puts the sexual abuse lawsuits against the Boy Scouts on hold for now. But with some estimates that the need for victim compensation funds could surpass a billion dollars, it's possible that the organization will ultimately need to sell off some of its property holdings to pay. That includes campgrounds and hiking trails all over the country.
The Boy Scouts are just the latest to face a high profile sexual abuse case. Roman Catholic dioceses nationwide, as well as Penn State and Michigan State universities, have paid out hundreds of millions in recent years due to similar allegations of sexual abuse and misconduct.