Mom Opens First Breastfeeding Cafe, Gets Death Threats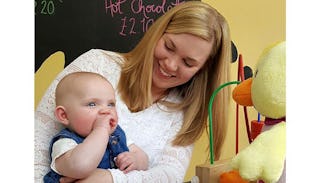 Photo via The Milk Lounge / Facebook.
The Milk Lounge is the UK's first breastfeeding cafe
A genius mom opened the UK's first breastfeeding cafe this week and, in addition to praise from many parents, she's also getting death threats — because how dare new parents have a comfortable place that's just for them!
Charlotte Purdie, who became a mom in March 2015, opened The Milk Lounge in Nottingham, England and it sounds like a truly amazing place for new parents and kids. Among the fabulous offerings, the lounge has a changing room with enough space for a stroller, toddler activities throughout the cafe, and a feeding room that comes equipped with a fan, toy corner, and en-suite bathroom. There's also a bottle-warming station, a space-themed sensory room, freshly-baked cakes and a waitress who can serve parents while they're feeding their little ones.
The family-focused cafe welcomes dads as well and doesn't have an official stance on breast or bottle feeding. "It's important that they feel that they're not going to be judged," Purdie said. There's enough space for group events for new parents, including a free "Mum's Emotional Well-Being Session" next month. "We appreciate it can be isolating when you're a new mum or dad and this venture will provide a warm and welcoming environment for parents, which can only be a good thing," Purdie told Nottingham Post.
She's receiving some well-deserved praise for creating this dream space for parents. "My breast feeding days are long gone, but I'd have loved to have the chance to relax with my baby in such a special place," Simone Sunflower Lively wrote on The Milk Lounge's Facebook page. "I visited recently and can only say how in awe I am that you have done this with a young family. It's such a positive thing for Nottingham," Katie Bohane wrote.
Not everyone is thrilled about the cafe, though. According to Huffington Post, Purdie said, "I have received death threats and abusive phone calls in the middle of the night since I opened. We are a family friendly cafe, but some people are against us." Wait, what?! Who in their right mind could be against parents having a place to feed their kids? "You know what makes me really fucking angry, clean places for nursing mothers," is what I imagine these lunatics think. "How dare parents have a place of their own!"
Parents should be able to feed their kids – with breast or bottle – anywhere without being harassed. But that still, even in 2016, isn't the world we live in. Earlier this month a North Carolina judge shamed a mother for feeding her eight-month-old son. Then there was the mom who was told to stop breastfeeding her child while in a museum that features exhibits on the women's rights movement. In Texas, a waitress covered a nursing mom at a Sushi restaurant after male customers complained. These few examples illustrate how awful and cruel the world can be to nursing moms, which is the exact reason Purdie opened The Milk Lounge.
Despite the insane response from some, she remains focused on her mission to provide an exceptional space for families. "I think that every town should have one so that everybody can access one," she told Notts TV. "If there are places that we are not able to reach, I hope that other businesses do pick up on it and provide that space for them."