Brian Austin Green Shuts Down Others 'Opinions' About His Sons' Long Hair
by Julie Scagell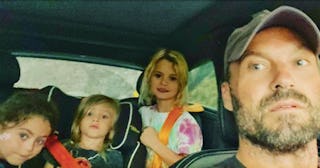 Brian Austin Green/Instagram
The father-of-four doesn't need parenting advice
Brian Austin Green (aka David Silver circa 90210 days) does not care what you think about his sons' long hair. The actor clapped back to some negative comments over his three sons' locks after he shared a photo on Instagram on a "Target run." In the shot, his sons Noah Shannon, seven, Bodhi Ransom, six, and Journey River, four — whom he shares with his estranged wife Megan Fox — look on from the backseat of the car, and all are sporting incredible long hair.
https://www.instagram.com/p/CE-mY-5nz5T/
While many of the comments were of the "gorgeous" and "adorable" variety, he got some keyboard warriors who just had to let their feelings about long hair on boys be known. "There's something not right when they all look/dress like girls," one commenter wrote. In an earlier post Green shared of his boys, another wrote, "Not trying to be mean, but I really thought they were all girls because of the long hair. Just being honest."
Green decided to respond in a much more mature way than many of us who get unsolicited opinions or advice on our children. "I've read some of the comments here. I'm not saying anything is right or wrong," he wrote. "I think some people with different opinions are attacked because opinions usually start with the words 'I think' or something similar. When people state opinions as facts is when arguments happen."
"The fact is my boys have and like long hair. In my opinion they are beautiful and will still be and possibly be mistaken for girls if they wore matching short and tshirt combos and had short hair. Some people like boys and men with long hair. Some people don't. Both opinions are ok," the actor added. Amen.
Green often shares pics of his boys and, although he is a celebrity, the fact that people feel the need to comment if they don't agree with something is absurd. If you don't think boys should have long hair, keep your boy's hair short. The end. See how easy that was?
Green responded similarly several years ago when his son, Noah, wore a dress out in public when he was younger. "My son, he's 4. I've heard from some people that they don't agree with him wearing dresses," he said at the time. "To them I say, I don't care. He's 4 and if he wants to wear it then he wears it."