'Bridgerton' Is Bringing All The Hot Sex Scenes We Need In Our Lives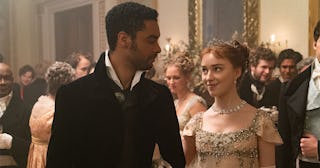 LIAM DANIEL/NETFLIX
If you're looking for eight hours of romance, witty banter, glorious costumes, and a bevy of complicated characters — 'Bridgerton' delivers
If you hear the phrase "historical romance" and your initial reaction is to yawn, then it's because you haven't read one. And there's no better place to start than Bridgerton — both the new Netflix series, and the series of eight delightful books by author Julia Quinn. The show itself achieves what so many dramas — both period and contemporary — fail to do: it gives every single character an in-depth complexity and a compelling storyline. It's also funny, intricately styled, and sexy as hell.
Basically, it has everything your beloved Jane Austen adaptations contain, but with more heat. A lot more heat. And a diverse cast full of Black characters living full lives alongside their white peers, which is amazing to see. (The characters of Lady Danbury and Queen Charlotte are some of the best on television, period.)
Bridgerton, created by Chris Van Dusen (whose past credits include Scandal and Grey's Anatomy) premiered on Netflix on Christmas Day. It's the first scripted series in Shonda Rhimes' deal with Netflix, and it's an adaptation of the first book of Quinn's eight-book Regency romance series. It takes place in the early 19th century, and it follows the eight Briderton siblings on their quest for love and its many forms (Anthony, Benedict, Colin, Daphne, Eloise, Francesca, Gregory, and Hyacinth, thankyouverymuch).
Daphne Bridgerton (played by Phoebe Dynevor), the fourth child and eldest daughter in the family, is embarking on her first "season," which is basically a handful of months where rich young women in London society enter the social scene in search of a husband. What Bridgerton does so, so well is that it captures the glitz and glamor of such events while focusing on the severe limitations placed upon women during that time.
Basically, if you didn't secure yourself a husband you were considered an undesirable old hag before you were 21. As much as it brings amazing sex scenes to life, Bridgerton also gives life to complicated, flawed, fully-dimensional female characters in a brilliant way.
Daphne may be a favored beauty of the season, but a series of mishaps ultimately brings her close to the kiss of death when it comes to finding a husband that isn't a total tool. Daphne knows she's got to come up with a plan to re-gain popularity fast.
[Warning: the rest of this review contains SPOILERS. You know what to do.]
Daphne's plan involves the ridiculously gorgeous Duke of Hastings, Simon (Regé-Jean Page) who is also looking for a way to get all the fortune-hunting, horny women off his back. So they engage in fake dating (the best romance trope) to help one another out. If Daphne is seen with a sexy, desirable duke and Simon is seen as already taken, it works out for both of them.
Just kidding! They both develop the hots for one another, end up in a compromising situation, and are forced into marriage. Now remember, anything more than batting eyes at someone was considered risqué at that time, so being caught by an onlooker in a sexy, garden makeout sesh would basically ruin a woman's entire life, the lives of her sisters, and condemn the family to eternal shame if the man didn't immediately marry her afterward. Good times!
Watching Daphne, who, like pretty much all proper young misses back then, knows absolutely nothing about sex, her own sexuality, and the biological process of reproduction, embark on her "education" is undeniably fun. And so sexy. There's a scene where Simon describes masturbation that will leave you as breathless as the young virgin he's talking to, no joke.
What's less fun is the fact that she desperately wants children, and Simon, who had a horribly traumatic childhood, doesn't. This is where things get complicated for both of them. What follows is a series of miscommunications and deceptions on both ends, thanks to Daphne's utter ignorance of biology and Simon counting on that ignorance to continue his "can't" have kids semi-lie. And because neither one is forthright with the other, emotions run high and both end up feeling betrayed by the other.
Luckily, Dynevor and Page are brilliant in this show, and their chemistry is off-the-charts. Ultimately, no one wants to watch two perfect people have a perfect relationship in a romance. The show would be over in 20 minutes. It would be boring and unrealistic. And the sex would be boring AF.
Speaking of sex — oh, it's amazing. Because for, like, the first time ever, the sex on-screen is all about the female gaze. Which is as refreshing as it is hot. Super hot. Like, Blanche-Deveroux-fanning-herself-dot-gif HOT. The show hired an "intimacy coordinator," Lizzy Talbot, to craft the sex scenes that everyone is buzzing about.
Dynevor told Grazia magazine the first scene she shot was a sex scene, which Talbot helped to plan. "And it was so great, because it felt safe and fun: you choreograph it like a stunt, or a dance," she said. "It's crazy to me that that hasn't been there in the past. I've done sex scenes before that I can't believe I did: it was only five or six years ago, but it would not be allowed now."
The hand-grazes and longing looks are as scintillating as the actual sex scenes, which takes some serious talent. (How does one sign up to be an intimacy coordinator? Because I think I found my calling.)
And before you go and say "but sex is never like that for women their first time" I want to ask you one thing: do you really want disappointing realism in your escapism? NO. NO, YOU DO NOT. JUST ENJOY IT, OKAY?
There has been a lot of talk about male consent in regard to one scene in particular, which is a valuable discussion to have. But if you're worried this show is in any way like Game of Thrones or Outlander in regard to violent sexual assault, don't be — Bridgerton is the apple to those oranges. It's not even in the same realm. (Any critic suggesting otherwise is intentionally excluding nuance and context from their narrative for outrage clicks. I said what I said.)
You can root for two people to be together and love watching their story unfold while also acknowledging the problems they have and criticizing the choices they make. And Bridgerton does this beautifully — with the lead characters, with their families, with their friends, and with the vibrant Regency world it's created. It's a smart, sexy-as-hell love letter to the romance genre and my goodness, don't we need more beautiful escapism right now?
The show also gives us coming-of-age female friendship (shoutout to Claudia Jessie and Nicola Coughlan), shows us the lengths maternal love will go to at such a fraught time for women, and, of course, entertains us with the gossip and scandals brought to us by Julie Andrews, so what more could you ask for?
You'll probably devour Bridgerton in record time, so if you're hungry for more historical romance in the meantime, you can read each of the siblings' stories in book form to hold you over until season two. And if Netflix is smart, there will definitely be a season two.
This article was originally published on