Britney Drags Her Family On Insta For Abandoning Her During Conservatorship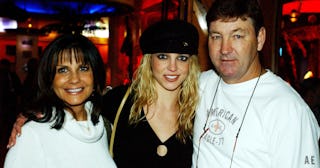 Denise Truscello/WireImage/Getty
Britney Spears gave a disturbing glimpse into her life under the conservatorship in a scathing Instagram post
After more than a decade under the control of a conservatorship headed up by the father she calls abusive, Britney Spears is more than ready to throw off those shackles and start speaking for herself. Nowhere is that more evident than on her social media, where one of the star's latest posts took aim at the family members who let her suffer for years without advocating on her behalf.
Spears posted a trippy image of a blonde woman laid out on the ground, obviously in need of help, as another woman swoops down to rescue her. I mean, you don't have to be Freud to interpret that one.
"This picture is everything to me !!! It makes me want to cry … she's saving her divine feminine sister," Spears wrote. "I suggest if you have a friend that's been in a house that feels really small for four months … no car … no phone … no door for privacy and they have to work around 10 hours a day 7 days a week and give tons of blood weekly with never a day off … I strongly suggest you go pick up your friend and get them the hell outta there !!!!!"
We've heard Britney speak out about how she was forced to keep working, touring, and preforming despite her objections, because that's what the conservatorship demanded. We've also seen multiple articles and competing documentaries claim that Britney wasn't allowed to keep her cell phone, and even that she was spied on within her own home — all allegedly under the orders of Brit's father, Jamie Spears.
Jamie was removed as head of the conservatorship last week, and while it is still in place at the moment, things seem to be moving in a brand new direction — one that Britney is thrilled about.
"If you're like my family who says things like "sorry, you're in a conservatorship" … probably thinking you're different so they can fuck with you !!!! Thankfully I found an amazing attorney Mathew Rosengart who has helped change my life 🌹!!!!" she wrote.
While her father called his removal from the conservatorship "a loss" for Britney, her mother Lynn and sister Jamie Lynn has remained relatively quiet about it all — a silence that seems to have been paining the pop star for many years, judging by her post.
It's not the first time she's put family members on blast. "Never forget who ignored you when you needed them and who helped you before you even had to ask," she said over the summer in a now deleted post. It seems Britney is far from being able to forget, let alone forgive — and after everything she's suffered, who can really blame her?