Britney Inspires New Bill To Empower People Living Under Conservatorship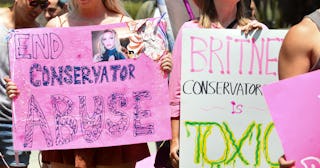 Rodin Eckenroth/Getty
Britney Spears' 13-year conservatorship has inspired bipartisan legislation in the House of Representatives to help prevent guardianship abuse across the country
After her harrowing testimony last month in which Britney Spears shared details of what her life has been like under a 13-year financial and personal conservatorship, both Spears herself and her many fans around the globe began advocating for the wider issue of conservatorship abuse, something which Spears has said she's suffered under the reigns of her father, Jamie Spears, and the team of lawyers assigned to her over the years.
In light of Britney's bombshell allegations, lawmakers from both sides of the political spectrum are coming together to help combat guardianship abuse and allow conservatees like Britney to replace their guardian or conservator.
The bill, known as the Freedom and Right to Emancipate from Exploitation Act (the FREE Act), is co-sponsored by Representatives Charlie Crist and Nancy Mace of Florida and South Carolina respectively.
Crist, a Democrat, and Mace, a Republican, announced plans for the bill on Tuesday, July 20, and the pair are aiming to "bring transparency and accountability to the conservatorship process," as Mace said in a statement. "The Britney Spears conservatorship, it's a nightmare. If this can happen to her, it can happen to anybody. Conservatorships undoubtedly protect countless vulnerable Americans from abuse, but the case of Britney Spears reveals a darker side to a system meant to protect people."
If passed into law, the bill would ensure that people placed under a conservatorship are given the right to ask that their court-appointed private guardian or conservator be replaced with a public guardian employed by the state, a family member, or a private agent. As the process stands now, conservatees have to prove in court that they've been subjected to abuse or fraud in order for a replacement to happen.
It will also require conservators and guardians to disclose finances and for states to provide annual reports detailing the individual conservatorships within their jurisdiction. Much has been made about the reported financial abuse in Britney's case, specifically among her father, who is in control of her earnings and assets.
The bill directly cites the fact that Britney has tried to formally remove her father from her conservatorship as far back as 2019, with her requests denied by the judge prior to and after her June 23 hearing.
If the bill is passed by Congress, it will serve as a "solid first step toward conservatorship reform," according to Mace, but some Britney fans and disability rights advocates note that it's simply not enough to protect people placed under such restrictive measures, since it still supports the idea of a conservatorship as a whole.
As Prianka Nair, co-director of the Disability and Civil Rights Clinic at Brooklyn Law School, told the NYT, "Guardianship is extremely restrictive. One thing that would be extraordinarily helpful is to have legislation that actually says guardianship should be the last measure and that courts should consider other less restrictive ways of providing decision-making support."
Still, it's clear that Britney's story is helping to move the needle in long overdue measure, and it's not the first time the pop icon has inspired legislation. In 2009, California Gov. Arnold Schwarzenegger signed a paparazzi bill into law that charges fines to both photographers for taking photos that invade a celebrity's right to privacy and media outlets for purchasing them. It was directly inspired by the media circus that surrounded Britney and other celebrities at the height of tabloid and blog culture in the early to mid-aughts, and has shifted the ways in which public figures are targeted by paps to this day.
As for Britney, her next hearing is in September, and with new legal representation of her choosing, her fans from across the world are surely hoping she gets her hard-earned freedom and happiness back ASAP.