Court Docs Reveal Britney Forced To Work Against Her Will To Pay Her Dad
by Christina Marfice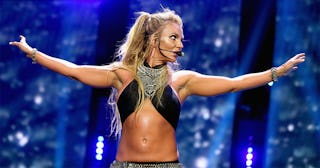 Isaac Brekken/Getty
Newly released court documents give insight into Britney Spears' "oppressive" conservatorship ahead of an important court hearing
Britney Spears' conservatorship has been the subject of controversy for years now. It exploded back into the public eye last year, when the Framing Britney Spears documentary made a case that the conservatorship is highly unusual and an unnecessary tool to control the pop star. Britney has also had a number of court appearances as she seeks changes to her conservatorship agreement. Now, ahead of an important court hearing, newly released documents paint a sadder picture than ever before.
The New York Times released court documents that it just obtained from 2016, that show Britney has been pushing for years to end the conservatorship, despite public claims by her family and team that she's free to end it any time she wants.
The new documents show the extent of the control over Britney's life this conservatorship grants, stating it limits everything from who she can date to what color she can paint her kitchen cabinets.
"She articulated she feels the conservatorship has become an oppressive and controlling tool against her," a court investigator wrote in 2016, recounting a conversation in which Britney said the system had "Too, too much" control over her life. The investigator continued, "She is 'sick of being taken advantage of' and she said she is the one working and earning her money but everyone around her is on her payroll," and wrote that Britney wanted the conservatorship ended as soon as possible.
At the center of all these legal battles has been Britney's father, Jamie Spears, who was appointed by the court to control her finances and career. The new documents show that as early as 2014, Britney and her lawyers were asking judges to reconsider, citing Jamie's drinking among a long list of other reasons that they didn't think he was fit for the role.
One of the most shocking reveals from the new court documents is that, even as she was earning millions from her Las Vegas residency, Britney was allowed only a $2,000 a week allowance — while her father collected a $16,000 monthly salary, $2,000 a month to pay for office space, and commissions on all of Britney's earnings and deals. Her past comments about being afraid of her father and forced to perform against her will are sickening in that light — it's now clear that she was made to keep performing in order to pay her father, not to support herself.
What's next for Britney? She has asked for an expedited hearing, which will take place today in Los Angeles. She will address the court herself, something she hasn't often done. It's unclear whether her remarks will be made public. But after learning these new details, we can only hope the court system will side with her and help her find the freedom and peace she deserves.