Britney Spears Is Back On Instagram, But Her Posts Have Fans Concerned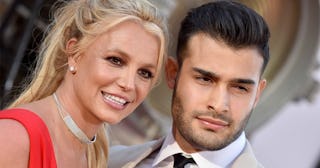 Axelle/Bauer-Griffin/FilmMagic/Getty
Britney Spears is back on Instagram after briefly deactivating her account, but fans aren't sure if the person posting now is really her
Britney Spears fans are facing another mystery. Last week, after announcing her engagement to longtime boyfriend Sam Asghari, Brit disappeared from Instagram, one of her most prolific platforms. On Twitter, she explained that she was simply taking a social media break so she could focus on and enjoy her recent engagement to long-time boyfriend Sam Asghari. But she's already reactivated her account — only her recent posts have fans concerned that something is wrong.
There's always been a lot of questions and speculation around Spears' social media posts. Amid her strict conservatorship and more recently, her battle for freedom from it, it's often been hard to tell if it's really her making the posts, and not her father or someone else on her conservatorship team. Posts that have been made since Spears reactivated the account have sparked similar concerns, especially this one, which Spears claims in the caption was taken during a getaway to Palm Springs to celebrate being newly engaged.
"Some shots from my weekend getaway to celebrate my engagement with my … holy shit … FIANCÉ … I still can't believe it," she wrote. "I couldn't stay away from the gram too long so I'm back already."
But fans in the comments were quick to point out that when Britney posted engagement photos showing off her rock just days ago, she had short hair with red highlights. In fact, these pictures that were allegedly taken over the weekend in Palm Springs are virtually identical to photos Spears posted back in February — same hair length and style, same shirt, same necklace, and very similar makeup.
Fans took to the comments on both posts to share their concerns.
In the two other posts she's made on her Instagram since reactivating it, Spears seems to address the controversy. On a video of her dancing, she notes in the caption that the video is from July. And in her most recent post, another dance video, she explains that she's wearing hair extensions and that "my red dye came out in the shower 🚿 and it looked like a crime scene."
Is there any way to tell if that's the truth, and if this is really Brit? Well, unfortunately, not really. But fans are calling for her to give some kind of a sign of life to prove that she's still OK and still allowed to run her own Instagram account. For her sake, we really hope there's nothing shady going on.