Britney Spears Shades New Documentary As Lawyer Bashes Her Dad
by Kristina Johnson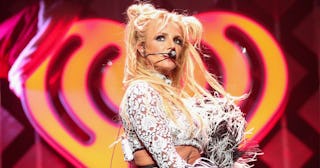 Christopher Polk/Getty
Britney Spears has thoughts on that new doc
Britney Spears has seen the latest documentary on her life and career, Controlling Britney Spears, and she's not exactly sugarcoating her thoughts. The pop star took to Instagram to speak out about the doc, saying "I hate to inform you but a lot of what you heard is not true!!" Or at least that's what she said at first, per US Weekly. Spears then deleted her original post and seems to have toned down her comments the second time around.
"It's really crazy guys … I watched a little bit of the last documentary and I must say I scratched my head a couple of times 🙄 "
The words "a lot of what you heard is not true!!" no longer appear in the post, sending fans into a tizzy over why Britney changed the caption and whether it was of her own accord.
"I really try to disassociate myself from the drama," Brit continued. "Number one … that's the past !!! Number two … can the dialogue get any classier 🤷🏼‍♀️🤓😭 ??? Number three … wow they used the most beautiful footage of me in the world 😳 !!! What can I say .. the EFFORT on their part 👏🏼🙄 !!!"
Does she love it? Does she hate it? It's impossible to say — though the line about disassociating from drama seems to indicate that Spears would rather not be the subject of another doc, regardless of whether the explosive claims made on camera ultimately help get her out of the conservatorship she's been under for more than a decade.
Some of the most shocking allegations outlined in Controlling Britney Spears are against her dad Jamie, detailing how far he went to monitor and control his famous daughter. Britney's recently appointed lawyer Mathew Rosengart seized upon those claims in a statement bashing Jamie, calling them "horrifying and unconscionable invasions of his adult daughter's privacy."
Citing a New York Times article accompanying the doc, "Specifically, the Times reported that he and others 'ran an intense surveillance apparatus that monitored [Ms. Spears's] communications' and also evidently captured attorney-client communications with her prior lawyer, which communications are a sacrosanct part of the legal system."
"Even more shockingly," Rosengart wrote in a court filing, "the Times reported that Mr. Spears and his cohorts 'secretly captured audio recordings from her bedroom,' including private communications with her children. Mr. Spears has crossed unfathomable lines. While they are not evidence, the allegations warrant serious investigation, certainly by Ms. Spears as, among other things, California is a 'two-party' consent state."
Rosengart is helping Britney petition to have her father removed from the conservatorship on the way to having it dissolved altogether. The lawyer says it's abundantly clear that Jamie is doing much more harm than good. "To be clear, his suspension will not impede the ultimate termination of the entire conservatorship, as Mr. Spears will be required during the transition to work with his temporary successor," he wrote. "The only thing Mr. Spears will 'lose' is something he should not have ever had — the ability to further harm his daughter."
Their case is due back in court this week — and Britney, her lawyer, and her millions of fans will surely be hoping that a judge finally agrees with what they've been saying for so long: Jamie has got to go.