Britney Spears Just Thanked The #FreeBritney Movement For The First Time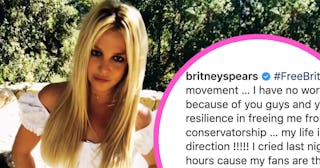 Britney Spears/Instagram
For the first time, Britney Spears explicitly addressed her fans in the #FreeBritney movement, thanking them for their years of support
After 13 harrowing years under the control of her family, Britney Spears is finally on the road to freedom. While her strange and heartbreaking case has made headlines in recent months and years for all kinds of reasons (not the least of which being Brit's own harrowing testimony about what she's endured), the #FreeBritney movement has been at the center of it all, researching and raising awareness for years before it all came to a head in 2021. And on her Instagram, Spears just gave a sweet shout out to her fans in the movement.
"#FreeBritney movement … I have no words," she wrote alongside a series of her signature selfie videos. "Because of you guys and your constant resilience in freeing me from my conservatorship … my life is now in that direction !!!!! I cried last night for two hours cause my fans are the best and I know it … I feel your hearts and you feel mine … that much I know is true 💞 !!!!!"
While Spears has alluded to the #FreeBritney movement on her social media before (like when she posted a gif of a #FreeBritney flag), this is the first time she's explicitly mentioned or thanked the movement online. #FreeBritney fans have played a pivotal role in the events that have led to the unraveling of her conservatorship. They've been holding rallies and courthouse gatherings for years, as well as collecting evidence online about Spears's plight, which inspired the New York Times documentary, Framing Britney Spears, that launched the conservatorship into the public eye for the first time in many years.
Spears is finally almost free from the conservatorship. Last week, a judge issued an order suspending her father, Jamie Spears, from his role overseeing her finances. Her lawyer, Mathew Rosengart, has filed a motion to have the conservatorship dissolved altogether, which should be one of the next steps in the legal process.
Throughout these victories, Spears has taken to social media to share her joy at finally being seen, heard, and nearly freed. After spending her childhood building an acting and singing career, working nonstop through her teens and 20s, and spending the years since under this conservatorship, there is nothing this woman deserves more than to simply live her life with all the freedom and joy she can have.