Browzapalooza: 6 Products You'll Love Whether You Go Natural Or Bold
by Sara Farrell Baker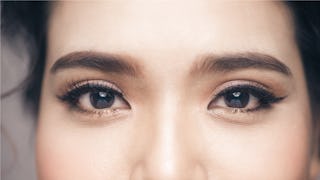 Makistock / Shutterstock
Brows are the queens of faces these days, and I think that's a good thing. It wasn't that long ago that brows were still small potatoes when it came to makeup application. Everyone had spermy eyebrows at that time, and I'm not sure if the spermy eyebrows came from no one really caring about them or no one cared much about brows because they were so spermy. But that is a chicken-and-egg situation I hope that we, as a people, have learned from and will not repeat.
The golden age of eyebrows is upon us, and our options are plentiful. There are brow extensions. Brow mascara. Brow plumper. Both waxing and threading. Brow contouring and highlighting. Microblading, where someone cuts tiny hair strokes into your brows and rubs ink into them, and you look like a million bucks and also spent a million bucks.
What a time to be alive!
With all there is to choose from, the selection of eyebrow makeup before you can feel a little overwhelming. But have no fear. I have curated a list of the best ish around. Prepare to get your fleek on.
Anastasia is a brand with its thumb firmly on the brow market. They make great products and Brow Wiz is one of the most popular of any brand. The thin, retractable pencil is perfect for drawing small, hair-like strokes to fill in brows. With a wide array of shades to choose from, it even has a handy spoolie brush on the end for grooming your brows and blending any harsh lines.
Castor oil — it's not just a yucky medicine that makes you have explosive poop. Applying a little to your brows at night can help to stimulate hair growth. So if you're still paying for your spermy-brow mistakes in middle school, this may help you bulk up your sad little eyebrows.
This kit costs half a latte, and it is so good. You can use a slanted brush to apply the tinted gel, drawing in your eyebrows wherever they may be sparse and defining your arch. Then fill in any leftover gaps and set the whole thing with the powder. I love this product. Love.
When I am in a rush or don't feel like applying much makeup, I reach for a brow gel. This brushes on easily, adding some extra pigment and plumping your brows up a bit without fully filling them in. The gel also keeps your brows in place so they don't stray in every direction throughout the day.
Another great pencil with a retractable tip. Sharpening pencils is a pain, and it's so convenient to give them a quick twist instead. This long-lasting formula goes on smooth and stays throughout the day. You can pencil in wherever you need a little extra bulk, then clean it all up with the attached brush.
I wasn't kidding about Anastasia. Eyebrows are on lock. This gel doesn't have any pigment. It's just a clear formula to set all your hard work and make sure none of it gets put out of place. It lasts all day to keep your brows looking just as good as when you first applied your makeup.
Whether you want a full face of makeup, something minimal, or just want your brows to grow back after you overplucked them in 2001, there are plenty of options out there for everyone. Play around with what's available and experiment. Just no feather brows, please.
This post contains affiliate links, which means we receive a small portion of the sale if you make a purchase using these links.
This article was originally published on