BTS ARMY, At Attention! We've Got The Best BTS Memes For Die-Hard Fans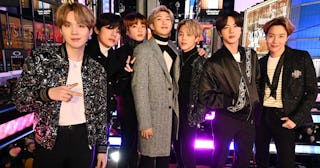 Astrid Stawiarz/Getty
Are any of the latest hits by BTS on your current playlist? If not, you should remedy that, STAT! If you've been living under a rock and don't know who they are, BTS is a K-pop group (aka Korean popular music) that has taken the world by storm. They aren't just popular in their home country of South Korea; they're a global phenomenon. Followers of the legendary boy band have dubbed themselves the BTS ARMY — Adorable Representative M.C. for Youth — and are considered by many to be the world's most dedicated fandom. Alright, now that you've given their music a listen, enlist in the BTS ARMY and check out our growing collection of BTS memes below.
Before we jump in, here's a quick primer if you aren't familiar with the term K-pop. As mentioned above, K-pop is Korean popular music, a category that's been steadily growing since the '90s and has become a worldwide sensation in recent years. And rightly so, K-pop is a unique sound, all its own, with a style of music influenced by its traditional South Korean roots, as well as other genres from around the world like jazz, classical, hip hop, country, pop, to name a few. There's nothing else quite like it. And it has a fanbase like no other. The BTS ARMY, a young and dedicated fandom that has taken their love of the seven-member band and given it the meme treatment. The highest form of flattery in the digital age. Here are some of our favorite ones.
BTS Memes on TikTok
Bruno Mars meets BTS
Recreating Memes is the Name of the Game
https://www.tiktok.com/@nvxsil/video/6853618858679389446?lang=en&is_copy_url=0&is_from_webapp=v1&sender_device=pc&sender_web_id=6945933058244527622
Never Not Laughing
https://www.tiktok.com/@yoongisgummysmile7/video/6938966037308198146?lang=en&is_copy_url=0&is_from_webapp=v1&sender_device=pc&sender_web_id=6945933058244527622
Give This Girl an A+
https://www.tiktok.com/@kayygee_/video/6933705056743197957?lang=en&is_copy_url=0&is_from_webapp=v1&sender_device=pc&sender_web_id=6945933058244527622
BTS Memes on Instagram
Cherry…or blueberry?
All.The.Tears.
https://www.instagram.com/p/COQiUUDJ9KU/?utm_source=ig_web_copy_link
The Storage is Going to Get You
Ever have a day like this?
It's As Easy as A-B-C…
BTS Showing Some ARMY Love
Been There, Done That, Bought That T-shirt
https://www.instagram.com/p/COR6kg8hz7Y/?utm_source=ig_embed
Okay…So, He Likes Hoodies?
Ohhh….Good Question
https://www.instagram.com/p/COR6am8nTvl/?utm_source=ig_web_copy_link
If You Know, You Know
https://pbs.twimg.com/media/E6L_QKqXIAQ3F9X?format=jpg&name=large
BTS Memes On Twitter
Every Cat is Yoongi
Look, There are Two Namjoons!
Haven't we all done this?
We All Have a Song Like This
They Definitely Have a Way of Lifting People Up
Aside from their insane musical talent, BTS truly knows how to make people happy.
Focus! Focus! Focus!
Are your kids BTS fans too?
Haters Gonna Hate
BTS = Joy
BTS Helps You Connect With Your Inner Self
The BTS Fandom DGAF
Facts About BTS
If these memes haven't piqued your interest in this popular K-pop group, these facts below will definitely make you a BTS stan. Check out these facts we've gathered below.
The acronym BTS stands for "Beyond the Scene."
The "leader" of BTS is RM. RM's initials stand for "Rap Monster," but his real name is actually Kim Nam-Joon. He also learned English by watching Friends.
The group wasn't self-created. Big Hit Entertainment, an entertainment company recruited each member. The search started in 2010 and ended in 2013.
By 2018, BTS had released 29 music videos and 22 singles.
The first album BTS released was called "Dark and Wild" on Aug. 19, 2014.
By 2018, BTS had won more than 50 awards.
Jimin is a libra
V is ambidextrous, which means he can write with both his left and right hand.
J-hope's father teaches literature.
Jungkook is slightly afraid of microwaves.
V plays the saxophone.
If Jungkook weren't an international star, he would have liked to be a tattoo artist.
RM and Halsey have a secret handshake.
Suga bites his nails.
V enjoys classical and jazz music.
RM is an athiest.
Suga does not like horror movies.
This article was originally published on