Build-A-Bear Dropped The Cutest 'Nightmare Before Christmas' Collection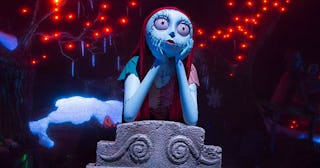 Disney
If you love the Halloween-turned-Christmas classic The Nightmare Before Christmas (and really, who doesn't?), you're gonna love Build-A-Bear right now. The makers of all of your stuffed animal dreams just dropped a Nightmare Before Christmas-themed collection and it's too perfect for words.
Build-A-Bear's foundation is a solid one — give kids a chance to be involved in the building of their very own stuffie down to finding its heart (and sounds and scents), add in some outfits (because what stuffed animal would be caught dead naked?) and you've got yourself a nice little Saturday. Add in Jack Skellington and it's damn near perfection.
Fans of Tim Burton's The Nightmare Before Christmas can now have their own King of Halloween Town complete with his signature suit and song chip. "Jack Skellington is a whimsically dark stuffed animal that's available exclusively online," which is music to any parents' ears because it means not standing for hours in line sweating profusely while your child labors over every single decision that comes with making a Build-A-Bear.
When the Build-A-Bear Workshop originally launched in 1997, it carried just bears and clothes. But as its popularity grew, the retail giant began to offer props, shoes, and accessories, because of course, your bear needs a visor to keep the sun out of his eyes. Now, they offer tons of perks, including its famous "Pay Your Age" event which draws thousands to its stores every year.
Of course, Jack wouldn't be complete without Sally. We all love Sally for her dedication to sneaking out from under Dr. Finkelstein's watch (which of course means poisoning him with deadly nightshade) to be with Jack. She wins his affections in the end and they live happily ever after, combining their love of All Of The Scary Things with the magic of Christmas.
Build-A-Bear's collab with Disney has been a huge success, not only bringing us The Nightmare Before Christmas collection but also Toy Story, Moana, Lion King, and Frozen.
The best part about this collection? The sound chip included inside each bear is actual Danny Elfman music from the movie. The Jack bear plays "This Is Halloween," and the Sally bear plays "Sally's Song." Simply press Jack or Sally's paws and you can sing away to your heart's content.
Both bears are $55 with the bundle package that includes the song chip. They are currently sold out online but will be restocking, so just add them to your Wish List and you'll get notified when Jack and Sally are back in stock. If you must have some plush Halloween item in your life immediately, might I suggest this candy corn riding a unicorn wearing a tutu?
Build-A-Bear for the win.
This article was originally published on