Christmas may be the merriest season, but for some of us, Halloween is truly what makes autumn special. And so it was for that niche crowd that famed director Tim Burton offered up the gift that is The Nightmare Before Christmas back in 1993. The instantly iconic and visually captivating animation combined the spirit of Christmas with all the dead spirits of Halloween, earning instant cult classic status.
This dark fantasy tells the story of Jack Skellington, the King of "Halloween Town" and his accidental introduction to the much happier and colorful "Christmas Town." With the warmth of the season seeping into his heart, Jack sets out to spread the joy of Christmas to all. Obviously, hilarity and mischief ensue, and Santa gets abducted in the process. But alls well that ends well: Jack fixes his own mess and cheer is spread to all.
For those who want to relive the magic and spookiness of this movie, we have gone ahead and rounded up the best Nightmare Before Christmas quotes. Of course, we can't solve the decades-long debate of whether this is a Halloween or Christmas movie, but we can offer Halloween and Christmas jokes in lieu. Who says you can only enjoy one? Spooky Christmas to all!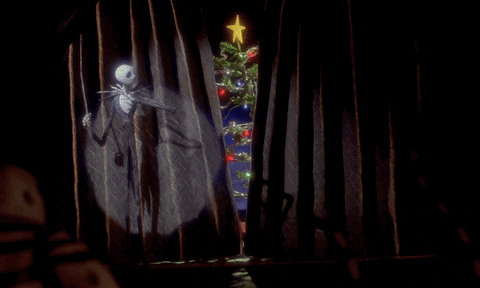 1. "Just because I cannot see it, doesn't mean I can't believe it!" — Jack Skellington
2. "My dearest friend, if you don't mind, I'd like to join you by your side, where we can gaze into the stars." — Jack Skellington
3. "'Twas a long time ago, longer now than it seems, in a place that perhaps you've seen in your dreams. For the story that you are about to be told took place in the holiday worlds of old. Now, you've probably wondered where holidays come from. If you haven't, I'd say it's time you began." — Santa Claus
4. "I really tasted something swell, that's right. And, for a moment, why, I even touched the sky and at least I left some stories they can tell." — Jack Skellington
5. "Jack said we should work together. Three of a kind. Birds of a feather. Now and forever!" — Lock, Shock, and Barrel
6. "What a joy to think of all we'll have in common. We'll have conversations worth having." — Sally
7. "No animal nor man can scream like I can, with the fury of my recitations!" — Jack Skellington
8. "I sense there's something in the wind, that feels like tragedy's at hand. And though I'd like to stand by him, can't shake this feeling that we have. The worst is just around the bend,  and does he notice my feelings for him? And will he see how much he means to me? I think it's not to be." — Sally
9. "Why does nothing ever turn out like it should?" — Jack Skellington
10. "My skull's so full, it's tearing me apart." — Jack Skellington
11. "Naughty children never get any presents!" —Santa Claus
12. "I'm a master of fright, and a demon of light, and I'll scare you right out of your pants." — Jack Skellington
13. "I am the shadow on the moon at night, filling your dreams to the brim with fright." — Oogie Boogie
14. "And on a dark cold night, under full moonlight, he flies into the fog like a vulture in the sky!" — Jack Skellington
15.  "Life's no fun without a good scare." — Child Trio
16. "Nothing's more suspicious than frog's breath!" — Dr. Finkelstein
17. "There are children throwing snowballs, instead of throwing heads, they're busy building toys and absolutely no one's dead." — Jack Skellington
18. "Curiosity killed the cat, you know." — Dr. Finklestein
19. "She's the only one who makes any sense around this insane asylum!"  — Santa Claus
20. "This is Halloween, this is Halloween. Pumpkins scream in the dead of night." — Pumpkins
21. "And I just can't wait until next Halloween 'cause I've got some new ideas that will really make them scream. And by God, I'm really gonna give it all my might!" — Jack Skellington
22. "Jack, please, I'm only an elected official here. I can't make decisions by myself!" — The Mayor
23. "What have I done? What have I done? How could I be so blind? All is lost. Where was I? Spoiled all! Spoiled all! Everything's gone all wrong. What have I done? What have I done? Find a deep cave to hide in. In a million years, they'll find me. Only dust, and a plaque that reads: 'Here Lies Poor Old Jack'." — Jack Skellington
24. "Christmas time is buzzing in my skull." — Jack Skellington
25. "Come with us and you will see, this, our town of Halloween." — Shadows
26. "This is Halloween, everybody make a scene." — Ghosts
27. "You know, I think this Christmas thing is not as tricky as it seems! But why should they have all the fun? It should belong to anyone! Not anyone, in fact, but me! Why, I could make a Christmas tree! And there's not a reason I can find, I couldn't have a Christmastime! I bet I could improve it, too! And that's exactly what I'll do!" — Jack Skellington
28. "Nice work, Bone Daddy!" — Sax Player
29. "Curiosity killed the cat, you know." — Dr. Finklestein
30. "The sound of rolling dice to me is music in the air, 'cause I'm a gambling Boogie Man, although I don't play fair!" — Oogie Boogie
31. "I am the 'who' when you call 'Who's there?" — Ghoul
32. "You can make other creations! I'm restless. I can't help it." — Sally
33. "Since I am dead I can take off my head to recite Shakespearean quotations." — Jack Skellington
34. "And I, Jack, the Pumpkin King, have grown so tired of the same old thing." — Jack Skellington
35. "I hope there's still time." — Jack Skellington
36. "Oh, somewhere deep inside of these bones. an emptiness began to grow." — Jack Skellington
37. "For it is plain, as anyone can see. We're simply meant to be." — Jack to Sally
38. "I'm gonna do the best I can!" — Oogie Boogie
39. "Jack! But they said you were dead. You must be double dead!" — Oogie Boogie
40. "There are only 365 days left until next Halloween!" — The Mayor
41. "Say it once, say it twice, take a chance, and roll the dice. Ride with the moon in the dead of night." — Witches
42. "Oh, there's an empty place in my bones, that calls out for something unknown." — Jack Skellington
43. "I might just spit a seam now if I don't die laughing first!" — Oogie Boogie
44. "Won't they be impressed? I am a genius! See how I transform this old rat into a most delightful hat." — Demon
45. Jack Skellington: "And one more thing…" [stops Barrel from leaving]
Jack Skellington: "Leave that no-account Oogie-Boogie out of this!"
Barrel: "Whatever you say, Jack."
Shock: "Of course, Jack."
Lock: "Wouldn't dream of it, Jack."
46. Kid: "Santa?"
Jack Skellington: "Merry Christmas! And what is your name?"
Kid: "Uh… uh…"
Jack Skellington: "That's all right. I have a present for you, anyway. There ya go, sonny! Ho ho ho! HEEHEEHEE!" [slips out the chimney] 
47. Mother: And what did Santa bring you, honey? [kid shows parents his present – a shrunken head; parents scream]
Jack Skellington: [flying away] Merry Christmas!

48. Jack Skellington: No, Zero. Down, boy… My, what a brilliant nose you have. The better to light my way! You're the head of the team, Zero!