Busy Philipps Kicks Off Pride Month By Honoring 12-Year-Old Birdie
by Valerie Williams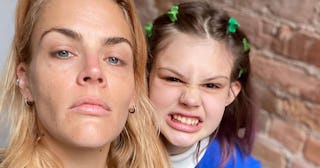 Busy Philipps/Instagram
Busy Philipps shouts out her child in honor of Pride month saying, "I have so much pride for this kid and everything they are and do!"
Busy Philipps is kicking off Pride right by honoring her 12-year-old child Birdie, who is gay and uses they/them pronouns. Philipps shared that news on her podcast at the beginning of the year and said Birdie gave her permission to do so. Now, Philipps is telling the world about the amazing things her child is doing to celebrate Pride and we're extremely here for it.
"Today is the start of PRIDE MONTH!" she writes. "I have so much pride for this kid and everything they are and do!"
Philipps explains that the shirt she's wearing is part of a The Haas Brothers and Citizens of Humanity collab with all proceeds going to LA's LGBTQIA+ center. "The @lalgbtcenter has been incredibly helpful to my family in the last several years, offering support and education and a sense of community," she writes.
Because of that close connection, it seems Birdie wanted to give back. "One incredible thing Birdie did last year (that I would like to brag about right now😂) is that after seeing all of the beauty products that I was sent by brands that went unused or given away, Birdie decided to start gathering the unopened makeup and hygiene items from me and other influencer types (actors, singers, makeup and hair artists) to donate to the @lalgbtcenter for the queer and trans youth that the Center provides a safe space for," Philipps explains.
"Well. Thanks to many of my friends, Birdie was able to donate HUNDREDS of items to the center," she says. I mean, look at that face. This is just amazing.
On her podcast, Philipps shared details about Birdie coming out. "For those of you who are my friends listening at home, this is the first you're hearing that Birdie is gay and out," she said. "Birdie told us at 10 years old and … I mean obviously, I knew that Birdie knew."
It's not hard to understand why Birdie is such a great kid with a gigantic heart. They have a super supportive mother who not only honors their true self, she also dives right in to whatever her kids are currently obsessed with.
She's literally doing so much better at the whole "what my tweens like" thing than I am. I should take cues from her but also, I don't want to watch Twitch streams.
TL;DR: Busy Philipps is a fabulously supportive momma to an extremely cool and kind-hearted kid. Pride indeed.