Busy Philipps Writes Beautiful Birthday Tribute To BFF Michelle Williams
by Cassandra Stone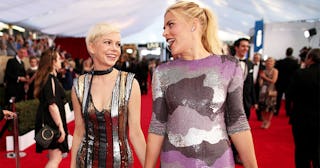 Christopher Polk/Getty
Busy Philipps' ode to female friendships in honor of her bestie will make you sob, TBH
The friendship between Busy Philipps and Michelle Williams has been going on for two decades now, and the love Philipps has for her bestie only grows deeper every year. In honor of Williams' 40th birthday, she penned a touching tribute to her friend of 20 years that honestly rivals every single one of Williams' brilliant awards acceptance speeches.
In the post, Philipps included candid photos of the pair through the years, which she said are "truly so us," and dove into the long-lasting friendship between them.
"I love these pictures," Philipps said. "I can't believe my best friend is 40. We met 20 years ago, which makes no sense because we're still 27."
In the first two pictures of the slideshow Philipps posted, she's helping Williams get ready in the mirror. There's also a sweet photo of Williams as a little girl (yes, she's always been beautiful and twee and also extremely powerful in an understated way?). But it's the message that will make you want to text, call, or drive to see your own BFF immediately and tell them how much you love them.
"I really wish I could be with my friend tonight celebrating how special and incredible and brilliant she is," Philipps continues. "And to tell her in person how I'm eternally grateful that we met all those years ago because there's no one I'd rather weather all the storms with and celebrate all the wonderful things with and cry and cry and laugh and laugh and drink and not drink with."
She touches on These Rough AF Times we're in, noting that she wishes everyone could be with their friends and loved ones right now. In June, Williams welcomed her second child with partner Thomas Kail, who was also her director on FX's Fosse/Verdon.
"But the thing that gives me hope (I guess) is that life is long," she writes. "And there are so many more birthdays to come. And I can't wait to be old someday with my friend and go to farmers markets in the countryside with her- my long grey hair parted in the middle and pulled tightly back in a bun and she in some giant sun hat, protecting her still perfect porcelain skin."
If you have this level of friendship in your life, count yourself lucky. If you're lucky, your mind immediately conjures up the person or persons you feel this way about, and you can picture similar daydreams unfolding that Philipps describes. Her friendship with Williams is clearly deep and evolving and full of joy. And we all need to read about, think about, and treasure some joy right now.
Before you finish reading, though, you're going to want to grab a tissue. Or, since we're living in a sweet, feminine fantasy, grab the lace-edged hanky from underneath your antique wristwatch.
"And then we, two old ladies who met when they were girls, jokingly will say to the lady farmer selling us oranges 'you won't believe this- we've been friends 50 years! Which makes no sense because we're only 40!," Philipps concludes. "And then Michelle will turn to me and say(for the girl's benefit), 'well, I'M only 40, B. You're 41.' And we will look at each other and link arms and laugh. Happy birthday, M. I love you.
Are you sobbing? Yep, let it all out. It's the good kind of crying for a change. Embrace it (and your bestie).
This article was originally published on