10 Butterfly Coloring Pages That'll Make Your Child's Imagination Soar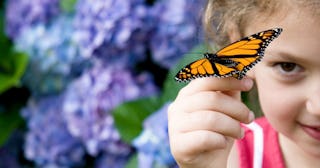 ascione/Getty Images
Butterflies are so cheerful, aren't they? When you see one fluttering by — its wings like tiny works of art — it's impossible not to smile. They remind you of spring. They make you daydream about what far-off place you'd travel to if you could fly. In other words, they're surprising life-affirming for, well, insects. And it's for all of these reasons that butterflies make such excellent art subjects. To that end, we put together a bunch of butterfly coloring pages to help you and your little one spread your creative wings.
Perhaps the thing we find most fun about these free coloring pages is that you can print off as many as you want, and you can fill them in differently every time. You can even use different mediums to make these winged beauties come to life: watercolor, crayons, colored pencils, Sharpies, chalk… heck, you can even break out that tie-dye kit tucked away in the closet and use the ink from it. How much fun is that? The sky's the limit when it comes to your imagination and the following free butterfly coloring pages!
Free Butterfly Coloring Pages
1. Pretty Butterfly
Is this a regal monarch butterfly? Let your artistic kid decide. They can break out the bright orange and black if that's the case. Or they can take a more fantastical approach and use hues like aqua, purple, gold, and chartreuse. Butterflies are truly delicate and beautiful creatures. Even their wings are transparent! Fun fact: Contrary to popular belief, butterflies actually have four wings, and not just two. After emerging as butterflies from their chrysalis, this beautiful bug doesn't take flight just yet. First, they wait a few hours for their wings to fill with blood before zipping through the sky.
2. Mandala Butterfly
Is it just us, or would this make a super-cool decal? Once your little one finishes filling in the intricate pattern of this butterfly mandala, ask them where they'd put it if it magically became a sticker. Encourage your kids to use monarch butterfly colors, which are one of the toughest bugs around. Each year they travel more than 2,400 miles during their migration season. (And you thought your family road trip was long!)
3. Butterflies in a Row
What's better than one butterfly to color? Five, of course! These butterflies in a row all have distinctly unique wing patterns, making them an ideal activity for siblings to tackle together. If you want to kick the creativity up another notch, ask your kiddos to give each butterfly its own name. Remind your child that they aren't the only one who loves mud pies. Butterflies have an all-liquid diet, and one of their favorite meals is mud puddles. (Yum…)
4. Fluttering Butterflies
These fluttering butterflies all three boast pretty intricate designs on their wings. But don't worry; your little one will still love coloring them, even if they can't seem to stay inside the lines. However, your tween might really relish the challenge of filling in these in-flight stunners. Did you know Antarctica is the only place in the world where you won't find any butterflies? It's pretty sad when you think about it.
5. Happy Butterflies
Well, if this doesn't put a smile on your face, we just don't know what will. One look at this cluster of happy butterflies should make you happy, too! As a bonus, this page should keep your little one entertained for quite some time, thanks to an abundance of cheerful flowers surrounding the cute bugs. Fun fact: Some butterflies can fly up to 12 miles per hour, while some moths flutter at a speed of up to 25 miles per hour.
6. Butterfly Friends
These "butterfly friends" would be a blast to bring to life through color anytime. But you can score serious mom-brownie-points by printing two pages out: one for your child, and one for their BFF. It's essentially the perfect playdate activity. Did you know that the largest butterfly in the world is the female Queen Alexandra's birdwing? (Bonus points, if that's your daughter's name!) Its wingspan can grow up to more than nine inches. Another big bug to show your kiddo is the giant swallowtail butterfly. It has a wingspan of four to seven inches, which is pretty big.
7. Cartoon Butterfly
It's time to get those storytelling gears turning! With a few words of encouragement from you, your little one will feel inspired to create a backstory for this precious little guy. If it really did have its own cartoon, what would it be about? What's this butterfly's name, and what makes it special? Fun fact: Did you know butterfly legs are made for more than just walking? They also use them to taste their food. Between all the cool butterfly info out there and your kid's imagination, before you know it, you and your creative child will have created the storyboard for your very own butterfly cartoon.
8. A Bevy of Butterflies
We adore the sketchbook vibe of these butterflies. It's almost as if they were pulled straight from the pages of Charles Darwin's notebook as he observed these winged creatures in the wild for the first time. So, consider this a built-in learning opportunity to teach your child about Charles Darwin and some of the naturalist's most prominent theories and observations. Here's a scientific fact to get you started. Butterflies are truly a fleeting beauty. They have a lifespan of about 10 days.
9. Butterfly Party
If you really want to go the extra mile, take your kiddo on a nature hike with their coloring page! Give them a pair of binoculars and have them look for butterflies. Every time they spot one, have them color one of these beauties to look like it — they can even jot down notes about the butterfly's pattern and behavior in the blank spaces on the page. Did you know butterflies cannot fly if they're too cold? To take flight, their body temperature has to be at least 86 degrees.
10. Two Butterflies
Does your little one need a confidence boost? Print out this page and point out how boldly patterned the butterflies are. Then, explain to your child that — despite being small and fragile — some butterflies build up their own bravado by having wings that mimic the appearance of predators' eyes. The lesson for your kiddo: Sometimes, being confident comes from the way you carry yourself. And here's another lesson: Butterflies are somewhat color blind. The only colors they can see are red, green, and yellow.
Click here to print out all of the butterfly coloring pages at once!
This article was originally published on