Former Campaign Staffer Says Trump Forcibly Kissed Her In 2016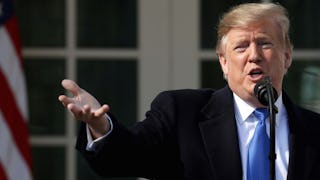 Image via Chip Somodevilla/Getty Images
Alva Johnson says Trump's forced kiss has been haunting her since it took place on the campaign trail two years ago
President Donald Trump is facing another lawsuit that accuses him of sexual misconduct, this time from a former campaign staffer who says the businessman forcibly kissed her in 2016, before a Tampa rally and as he was exiting an RV.
According to the Washington Post, Alva Johnson was working as the campaign's director of outreach and coalitions in Alabama in 2016 when the incident took place. Johnson was with a small group of Trump supporters it an RV minutes before a campaign rally took place. She noticed that he was trying to make eye contact with her – and noted that when he met her at a November 2015 rally in Birmingham, he had also looked at her body and said, "Oh, beautiful, beautiful, fantastic."
As he was exiting the vehicle, she said, "I've been on the road for you since March, away from my family. You're doing an awesome job. Go in there and kick ass."
She alleges that she was shocked when he responded by pulling her in for a kiss on the mouth, which she turned away from, so that it landed on the corner of her lip.
"Oh, my God, I think he's going to kiss me," she said, recalling the incident in an interview. "He's coming straight for my lips. So I turn my head, and he kisses me right on corner of my mouth, still holding my hand the entire time. Then he walks on out."
The lawsuit not only strives to "hold the President of the United States, Defendant Donald J. Trump, accountable for his sexually predatory conduct," but also claims that Johnson, who is black, was discriminated against during her time with the campaign because she was paid significantly less than white male staffers.
Within a day of the incident, Johnson told her boyfriend, her mother, and her stepfather about the kiss, sharing her shock and her distress. "She was hysterical," her mother said.
She also told her therapist about the alleged kiss, and how it was causing widespread distress in her life. The therapist noted it in her records.
"I've tried to let it go," Alva Johnson told the Post. "You want to move on with your life. I don't sleep. I wake up at 4 in the morning looking at the news. I feel guilty. The only thing I did was show up for work one day."
Press Secretary Sarah Huckabee Sanders denied the allegations in a statement. "This accusation is absurd on its face. This never happened and is directly contradicted by multiple highly credible eye witness accounts."
The incident has been denied by two eye witnesses – although both eye witnesses work with the president.
This is far from the first time that Trump has been accused of sexual misconduct. Multiple women have accused him publicly in the recent past, not to mention the famous audio tape of the sitting president bragging about forcibly kissing and grabbing women.
Johnson, a mom of four and an event planner, says she voted for Obama in 2008 and 2012 before her stepfather's interest in Trump made her take notice of the candidate. She thought that his business policies may be good for black communities. She kept quiet publicly about the forced kiss, though when the audio tapes were released about six weeks after her own incident, she realized that it was as bad as she had been feeling.
She continued to work for the campaign, and even applied for two positions within the campaign after the incident, saying positive things about Trump as recently as the spring of 2017. But she says she was simply trying to get work and that she had signed a non-disclosure agreement.
"She was under an oppressive NDA that prevents her from saying anything negative about the president," her lawyer said. "She was also trying to move on with her life and had an application for a job with the embassy in Portugal pending."
Johnson says she was emboldened to come out with her allegations recently after finding a lawyer to take her case and as the #MeToo Movement gained strength.
Although this is the first time he's been accused of sexual misconduct during his campaign for president, and since entering office, Trump's since pretty openly sexually harassed members of the media as well as female politicians.