A No-Masks-Required Spin Studio Is Responsible For 61 COVID Cases
by Cassandra Stone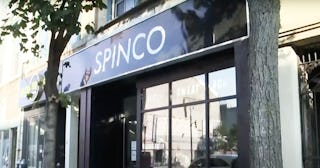 CHCH News/Youtube
A Canadian spin studio is now the source of a COVID-19 outbreak that began with one client
A spin studio in Ontario is the source of a sizable outbreak of COVID-19, according to Canadian public health officials. As many as 100 staff members, clients, and their family members have likely been exposed. Despite the studio taking precautionary measures, the outbreak began with an asymptomatic patient zero.
SPINCO, a spin studio that just opened in July, reportedly followed all COVID-19 safety protocols and was operating at 50% capacity. But those measures just weren't enough to contain the highly contagious respiratory disease in an exercise studio where patrons were not required to wear a mask while "actively engaged in an athletic or fitness activity" and breathing heavily — only when entering and exiting the studio was mask-wearing a requirement.
https://www.instagram.com/p/B-Q73uBnPNU/
"They had done all sorts of things to remove the potential for spread," Dr. Elizabeth Richardson, the medical director of health in Hamilton, Ontario, told reporters. "Unfortunately, gyms are a higher-risk place because of the fact that generally people are taking off their masks, they're breathing at a higher rate."
SPINCO allowed riders to remove their masks once clipped into their bikes, and told them to cover up again before dismounting. All the Clorox wipe-downs and towel-laundering and other acts of "hygiene theater" are absolutely no match for airborne droplets containing the coronavirus.
According to the Centers for Disease Control and Prevention, contagious droplets are released when someone with COVID-19 sneezes, coughs, or talks. Infectious droplets can land in the mouths or noses of people who are nearby or possibly be inhaled into the lungs. Respiratory droplets can land on hands, objects, or surfaces around the person when they cough or talk, and people can then become infected with COVID-19 from touching hands, objects, or surfaces with droplets and then touching their eyes, nose, or mouth.
Data also shows that 40% of COVID cases are asymptomatic. This is a valid reason why going to gyms where people are not wearing masks, appear to be feeling fine, and are breathing heavily is not a good idea. And just because one person is asymptomatic does not in any way mean that the people they spread the virus to will have the same "luck."
The studio released a statement on Instagram:
"When we got the green light to reopen in July, like everyone we were hesitant, but we took all the measures public health offered, even added a few, and still the pandemic struck us again!" the studio captioned the image. "It started September 28 and spread amongst specific classes until October 5th. SPINCO Hamilton has been closed from the moment the outbreak was identified. As of today, everyone who has tested positive, are well. Our team, along side Public Health has notified everyone."
There are currently 44 confirmed positive primary cases associated with SPINCO and 17 confirmed secondary cases. Exposure was linked to several classes held from September 28 to October 4.
As most of the world moves into cooler temperatures and people gradually begin to gather indoors, COVID cases are spiking globally, per the World Health Organization. More than 38 million people have been reported infected globally and 1.1 million have died.
This article was originally published on