If You Are A Candle Lover, Join Us In Loving These Gems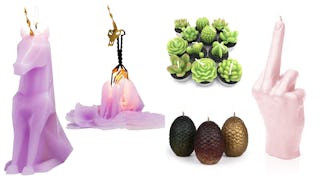 Amazon
Typically when we think of candles, we think of simple, round glass holders and the overpowering scent of vanilla or synthetic pine. But that's not what you'll get with these beauties, friends. From classic and elegant to the kinds of candles that will fill your cold, dark soul with evil glee, we have a candle here for every personality. Get your lighters ready.
Shut. UP. This unicorn skeleton candle is the coolest candle that ever candled. You need like 80 of these. A few for you and the rest to give as gifts to all the unicorn-obessed people in your life, which is everyone, because unicorns.
This Candle by the Hour Beehive candle is made from real beeswax and self-extinguishes when the flame reaches the clip. You just feed it through depending on how long you want the flame to burn. So ingenious, and a great conversation starter.
This skull candle, because you have a dark side and you're not afraid to show it.
If skulls are not so much your thing, this hammered metal candle might be more your speed. We think Chip and Joanna would approve.
I mean. Oh FFS, just buy it.
This elegant oil candle is the absolute perfect gift for that friend who is impossible to buy for. Because who wouldn't love this?
They smell like jasmine and are adorable and green and have a really high rating on Amazon. Probably the cutest candles ever created. NEED.
8. Harry Potter Inspired Candle
The perfect candle to bring a little magic into your favorite muggle's life.
So, with these Himalayan Sea Salt candle holders, you'll need to purchase the tea light candles separately, but the holders are too gorgeous not to share.
If you live in a different state than the one you grew up in, you know how where you grew up has a very specific scent, one that can bring back a flood of childhood memories. Well, the makers of these homesick candles, using input from locals from different states, are on a mission to bring that homey, heart-warming scent to you wherever you are. Brilliant.
This geometric glass candle is simple and elegant and would work with virtually any decor. Perfect for an entry table or desk.
This pretty candle with it's super sappy sentimental message is kind of exactly the right gift for the person in your life that you un-ironically feel like you simply couldn't live without. Plus it comes with a teeny tiny copper lid, and we'd buy it just for that, TBH.
These dragon's eggs candles are the perfect gift for the badass, unapologetic queen in your life. Dracarys.
We may earn fees from purchases made via links on this page and affiliated sites. All opinions are our own.
This article was originally published on