Is There Anything Cannabis Can't Do? Now It's Good for Your Skin Too.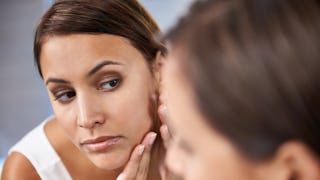 PeopleImages/Getty
Okay, people, things are getting real in cannabis land. Not only is it completely acceptable to vape at a dinner party (at least if you live in California), it's also cool to throw a CBD-infused bath bomb into your nightly soak, take a toke before bed to help you sleep, and now slather your skin with cannabis oil beauty products.
RELATED: How To Make Ahhhh-Mazing Bath Bombs For Gifts… Or Your Own Spa Days!
Maybe slather is a bit of an exaggeration, although once you start reading the first-hand accounts, you might be tempted to douse yourself in CBD oil from head to toe.
Skincare products containing cannabidiol, or CBD, the non-psychotropic element in cannabis, are hitting the shelves big time. From creams that soothe that itchy patch of dry skin on the back of your arm to silky serums that give you a more youthful glow, the cannabis oil infused beauty regimen is gaining popularity. I mean, if Mandy Moore and Olivia Wilde swear by the CBD-infused lotion they rub their feet with before venturing onto the red carpet in sky-high heels, I'm in.
RELATED: What's the Difference Between CBD and Hemp Oil?
So what makes cannabis-laced skincare so awesome?
First of all, cannabis oil, like avocado or olive oil, is heavy in fatty acids, which makes it a great hydrator and smoother, especially if you suffer from eczema or other similar skin conditions.
Next off, when applied topically, CBD actually works with the body's natural endocannabinoid system. Yeah, I know that's a mouthful, but the main takeaway is that our bodies already contain cannabinoids and when they hookup with CBD, it helps regulate our skin's oil production and reduce inflammation. That's really helpful for those of us with the sporadic case of adult acne. Some CBD-based products even tout "cellular healing" and anti-aging benefits.
There are more than 80 active cannabinoid chemicals in the marijuana plant, but because it's considered a Schedule 1 illegal drug, there's plenty of hesitation in the medical community to both prescribe and research it. A lot of what we know about CBD and skincare is anecdotal, but that doesn't mean it isn't real.
Buyers and investors feel the same way. A recent report in the Hemp Business Journal (yes, they're a legit market analysis firm), projects the CBD market will grow to about $2.1 billion up from a current $202 million by 2020. Basically, the mad scramble to make the most of new laws legalizing marijuana use — both medical and recreational — is in full effect. That's a good thing for everyone, from cancer patients who need it to quell nausea to people suffering from anxiety who need it to relax.
And now the $128 billion U.S. skincare industry is taking the CBD leap, as well.
Just to be clear, CBD won't get you high. Many of us are familiar with the mind-altering effects of marijuana – this is not that. Tetrahydrocannabinol (THC) is the active ingredient in pot that gets you high. CBD is better known for it healing properties, including helping with anxiety, stress and sleeplessness. It's also an anti-inflammatory that's been used by many different cultures throughout history to relieve pain and speed recovery.
So now you're probably wondering where to find cannabis-infused skincare. For now, you'll have to look online where numerous established and newer brands offer their creams, balms, serums and soaks. Even though it is part of the marijuana plant, CBD isn't a psychoactive ingredient and is legal in all 50 states so you should be able to order online no matter where you live.
While it'll be some time before you'll see CBD-infused products in the beauty aisle of your local drugstore I can tell you that, according to an article on Forbes, Sephora will be launching their own brand of CBD-based skincare this year – squeal!
Another benefit is the ingredient appeals to already established all-natural brands, so for those of us interested in keeping it green and toxin-free, there's a lot to choose from.
So is cannabis really the miracle skin repair ingredient we've been searching for? Only time and more research will tell.
But even if it isn't, I'm totally sold on its hydration, smoothing, and pain-relief benefits. Plus if Mandy Moore says it works, who am I to doubt her?
This article was originally published on