Woman Who Took A Jet To Capitol Riot Says She 'Deserves' A Pardon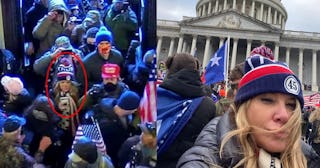 CBS News/FBI/Jenna Ryan
Texas woman who flew a private jet to the Capitol riots just asked Trump for a pardon because she doesn't think she should go to prison
A Texas woman who took a private jet to the Capitol on January 6, 2021 and was one of the many insurrectionists who stormed the Capitol and actually entered the government building has been arrested and in a recent news interview, she basically looked the camera straight in the lens and demanded that Donald Trump pardon her.
This woman, Jenna Ryan, is a realtor from Texas and a bit of a public figure on Twitter who live-blogged the coup from the capitol after she chartered a private jet to the attacks. In now-deleted Tweets she shared footage of herself breaking into the building and smiling next to a broken window at the Capitol. Though it didn't matter that she deleted those tweets, because DOJ security footage shows her breaking and entering the building, and it wasn't too hard to ID this woman as she kept all her other photos from the coup live on social media.
In a now-deleted Facebook Live video from the insurrection, NBC News reports that Ryan is on camera saying "we are going to fucking go in here. Life or death, it doesn't matter. Here we go." She also said "We're gonna go down and storm the Capitol. They're down there right now and that's why we came and so that's what we are going to do," and "this is a prelude to the war that's about to happen" and also "it was one of the best days of my life." Oh, also, next to the now-deleted photo of the broken window at the capitol, she wrote "Window at the capital. And if the news doesn't stop lying about us we're going to come after their studios next."
Not surprisingly Ryan has been charged with "knowingly entering or remaining in any restricted building or grounds without lawful authority" and "disorderly conduct on Capitol grounds," according to The Dallas Morning News. After her arrest she tried to walk it back and claim she was just there for the peaceful protest — even going so far as to release a "statement" as if she's a celebrity — but the internet always keeps receipts.
Now, she's asking — nay, not asking — telling Donald Trump to pardon her. In a deranged CBS News interview, Ryan looks directly into the camera and full of entitlement claims that she doesn't "deserve" to go to prison.
"I just want people to know I'm a normal person. That I listen to my president who told me to go to the Capitol. That I was displaying my patriotism while I was there and I was just protesting and I wasn't trying to do anything violent and I didn't realize there was actually violence," Ryan says in a local CBS News interview.
"I think we all deserve a pardon. I'm facing a prison sentence. I think I do not deserve that and from what I understand, every person is going to be arrested that was there, so I think everyone deserves a pardon, so I would ask the President of the United States to give me a pardon," she adds.
She thinks she is deserving of a pardon because she was just following the president's orders, and technically, she's not wrong, because inciting violence at the Capitol was literally why Trump was impeached for a second time.
"I feel like I was basically following my president," she added. "I was following what we were called to do. He asked us to fly there. He asked us to be there. So I was doing what he asked us to do."
Also, the "QAnon Shaman," who also stormed the Capitol and is currently in police custody? Yeah, he also wants a pardon too. The entitlement really just jumps out of these people, huh?
This article was originally published on