How A Car Trip From Hell Helped My Marriage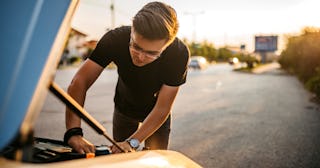 urbazon/Getty Images
One summer Sunday afternoon in 2019, my husband — a 50 year old litigator who, on most days, wears a suit and tie — laid himself spread eagle on a gas station's sun-warmed pavement, as did I (on the car's other side), straining to see what was making a flapping noise beneath my Honda Fit.
"Looks like the screws might have come out of that thing," Joe said, pointing to a large shield that hung low between my front tires.
It was a relief, actually, to be able to see what the issue was, since neither of us knows a thing about cars. Maybe, just maybe, I thought, we wouldn't break down and find ourselves stranded in Michigan's Deliverance country, nor would we lose any more time.
We were already cutting it close as it was.
Joe's best friend from high school — Steve, whom we'd seen maybe twice in the last dozen years — was getting married to a young woman from the Dominican Republic, where Steve owned a bar (despite primarily living and working in Nashville).
There had been no official invitation to the nuptials. Instead, Joe had received a call from Steve a month or two earlier, asking us to come to a vineyard outside Traverse City, four hours away, on this Sunday in June.
The exact time of the ceremony seemed in question until shortly before we left. "It's either four or four-thirty," Steve told Joe. "I'll check."
Joe and I exchanged amused, bewildered glances.
Our own wedding, nearly 16 years earlier (in an Ann Arbor movie palace, where we showed "When Harry Met Sally" as a pre-ceremony option), happened after nearly a decade of dating, including a handful years spent apart while I attended grad school in other states.
We each changed and grew so much on our own during that time that part of me has always wondered if those distance-relationship stints were the key to us making it through our twenties and early thirties as a couple.
I mean, we're still always changing now, of course. But at this point, when one of us is frustrated with the other, we don't think, "Can I live with this?" We think, "I am living with this. How do we push through?"
My car would surely sympathize, because when we returned to the highway, its undercarriage resumed that pulse-like knocking, and I finally said what Joe and I were likely both thinking.
"You know, this trip may just be doomed."
Besides the car issue, Joe had lost his wallet just two days earlier, so he couldn't drive, couldn't pay for anything without me, and was anxious about replacing everything; we'd started later than planned that morning, struggling to herd our two daughters to their grandmother's house (located a half hour in the wrong direction, naturally); and two hours into the trip, Joe suddenly announced, "Shit. I don't have anything to wear to the wedding." (He'd hung a pressed shirt, jacket, and tie on the doorknob of our house's entryway closet, where it remained, having never made it to my car.)
As Joe uttered a stream of curses, an outlet mall appeared through my windshield, so I quickly veered toward the exit.
Joe sighed and grimaced around the mall's American Eagle store, screeching hangers across racks. "These shirts are awful," he said at full volume (while I avoided eye contact with the salespeople). "I'll look ridiculous. These aren't even the right size! We'll waste $80 on some ugly, stupid shirt I'll never wear again."
Yet moments later, I bit back a smile and handed over my credit card to pay $37 for a patterned blue button-down that, while a bit snug, would suffice (along with the khakis he was already wearing).
"Coming upon this mall was actually great timing," I'd said, pleased with myself for solving this one problem so efficiently.
Joe remained grumpy, though, so I assumed all patting-myself-on-the-back duties.
Admittedly, it was easier for me to stay sunny and zen because I had both my wallet and the clothes I'd packed, not to mention the fact that I was just the superfluous "plus one" in this wedding venture.
But it was also because I'd so desperately missed feeling competent and capable in our day-to-day life.
Since my sudden layoff three years earlier — from an arts reporter position that had become, after more than a decade, intricately tied up with my identity — I'd failed to land, never getting beyond the occasional job interview.
I'd long felt like a failure that the working world of "real" adults had conveniently abandoned by the side of the road.
Yes, I have a steady stream of freelance jobs that provide a semi-decent side-income, but Joe's grueling law job is the sole reason we can make our mortgage payments. I know that all too well. And as a feminist with tons of education, this brutal reality scorches my sense of self daily.
Every once in a while, though, I'm reminded of my non-monetary value.
We were still racing to make the wedding, but at Joe's urging, we hit a fast food drive-thru for lunch, then stopped at a store to forage for last-minute wedding presents: Michigan-made liquors, which Joe would present to the couple in a white plastic Walmart bag. ("Who are we? Kid Rock?" I teased.)
After arriving at our roadside motel at 3:45 p.m., we changed clothes and rolled our car up the hill to Steve's 4:00 wedding at — wait for it — 3:59.
It had officially been a shit day.
Yet I couldn't stop smiling.
Why? In "The Subtle Art of Not Giving a F*ck," Mark Manson wrote, "Happiness comes from solving problems."
And he's right. You can't hope you just won't have any problems some day. (That's a foolish, impossible wish, no?) Instead, contentment comes from feeling like you're equipped with the tools and knowledge to find your way through them.
Since my layoff, I'd made myself like the hanger-on in our marriage. A parasite. A pathetic, professionally washed up middle aged woman the world had no further use for. (Hell, I still feel like this on most days.)
But on this one crazy, cursed day in June 2019, I almost single-handedly slayed every stupid obstacle the world threw at the two of us.
I'd even managed, against all odds, to get us to this crazy wedding on time.
And a shit day that you somehow manage to weather together is sometimes, remarkably, what makes you feel alive and wise and connected again.
So while catching our breath, Joe and I settled onto two white folding chairs on that windy hill; watched the bride arrive in a golf cart; and held hands while wondering what the couple's vows, delivered entirely in Spanish, might really mean.
This article was originally published on