Abra Cadabra! Make Fun Appear With These Easy Card Tricks For Kids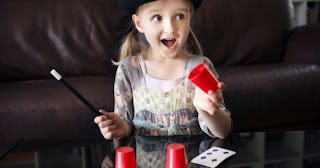 Elva Etienne/Getty Images
Do your kids love some good ol' brain trickery? If so, you're in the right place. Think of us as your source for quality quarantine entertainment. We've scoured the internet for fun things to do at home, and we've hit the jackpot. Best part? We're gonna share the wealth by bringing you a roundup of super simple card tricks for kids. Card tricks are a perfect way to pass the time because they're new, they're novel, and you don't have to go out and spend any of your hard-earned cash to make 'em happen. You've already got all the supplies you need right there in your game cabinet. That makes this activity both fun and frugal.
Card tricks for kids aren't always top of mind when you're racking your brain to come up with things to do during the eighty-millionth month of COVID-19. That's what makes 'em so awesome. They're fresh. They feel like magic. They're fab. And you're gonna up your "cool factor" quite a bit when you wow your kids with the wizardry we've put together down below. Got a Harry Potter fan in the house? Well, expect your cool factor to shoot straight through the roof.
Anyway, let's be honest. We're all puzzled, gamed, crafted, toyed, and TV'ed out. But, magic — we could all use a little more of that in our lives. That's not an opinion. That's a fact. So, grab a cup of coffee, get comfy, and read on for six easy card tricks for kids (or beginner adults — who's to say you don't wanna try these card tricks out yourself?).
6 Easy Card Tricks for Kids
1. The "Four Queens" Trick
Shown here in this video, the "Four Queens" trick is a simple sleight of hand involving all four queens in a typical deck of cards — go girl power! The tutorial above is brought to you by PBS Parents. In under two minutes, it's easy enough to master on the first try. This fun bit o' magic is sure to be a hit at your next family talent show.
2. The Greatest Card Trick Ever
Dubbed "The Greatest Card Trick Ever," this charming demonstration by Junk Drawer Magic lives up to its name. Hilariously portraying a magician and their assistant, the presenters are just as entertaining as the card trick itself. And there's more where that came from. Their whole channel is filled with dynamic and funny tricks for you to try at home.
3. World's "Easiest" Card Trick
Brought to you by CBC Kids, here's a card trick they're proclaiming as the "world's easiest." Hyperbole? Maybe. But clocking in at under a minute, this tutorial tops our list for the shortest video. And like its name boldly states, it really is easy. World's easiest? We can't take that to the bank. But we can say with certainty that it's the easiest we found while putting together this post. Try 'em all and let us know what you think.
4. A Super-Simple Card Trick
A magic trick shown by YouTuber Mary J. Lockwood, this is another quick demo that comes in under the two-minute mark. For that reason alone, it's an easy trick for most ages. With a handful of simple tricks like these, your kiddo will be putting on an entire magic show in no time.
5. Magic with Everyday Items
Popular (and comedic… trust us, he's a bucket of laughs!) magician Chris Westfall guest-starred on the Today's Parent YouTube channel to teach kids a cool trick with everyday items — the most important of these being a deck of cards. A quick word of caution, though: This trick is slightly more involved than the ones above, so maybe attempt it once you've mastered some of the easier ones on our list.
6. Eleven Card Trick
To start, you're going to need one ace, one joker and card numbers that go up to 10. Once you have 11, lay them out face front in this order: Six, five, four, three, two, ace, joker, 10, nine, eight, seven.
Then ask someone from the "audience" to move five cards from left to right. Turn over the seventh card from the left. This will let you know how many cards they moved over. If they don't move any cards over the seventh card, then you'll know it's the joker. Move the cards back in order and lay them out again and reveal what the seventh card is. Everyone will totally think you have x-ray vision.
What is sleight of hand?
Sleight of hand is known as prestidigitation or legerdemain. It's a performance practice that uses hand movements to trick spectators. It's not only essential in card tricks, but all forms of magic. Sleight of hand is usually used in close-up and street magic. The hand movements are meant to look like ordinary gestures when they're actually secret moves. This is a key skill in coin and rope tricks too. It's all about timing, keeping your spectator's focus where you want it and choreographed hands movements.
This article was originally published on