Cardi's Latest Insta Post Is A Tribute To Sticking It Through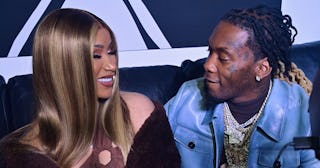 Prince Williams/Getty
Cardi B is sharing a little insight about her relationship with husband Offset after announcing a new baby on the way
At yesterday's BET Awards, rapper Cardi B shocked the world by revealing that she's pregnant with her second child with husband Offset. As fans may recall, Cardi filed for divorce last fall after three years of marriage to the Migos rapper. After asking for primary physical custody of their daughter Kulture and calling the marriage "irretrievably broken," Cardi and Offset later got back together and the divorce was called off. Now that they've shared the news of their second baby on the way, it seems Cardi wants to clear the air a little bit about how her relationship has evolved in the months since the filing and subsequent reconciliation.
Cardi took to Instagram earlier today to address her relationship to Offset and what the future holds for the couple. "We listened to each other, communicated, prayed and then God blessed us and our family with another little blessing. Our home feels so blissful and very busy," she captioned the photo.
She continues, "…but we are ready and so happy!! Thank you soo much everyone for the congrats and well wishes."
No doubt Cardi is keenly aware of what people might be saying about her marriage as she shares her pregnancy news and this post seems like her trying to clear up any chatter and ensure that the world knows she and Offset have worked on things and are moving on, joyfully ready to welcome a new child. Speaking of children, Cardi also took to the 'Gram today to share another precious bump photo — featuring adorable Kulture in her first public turn as big sister.
"I just know these two will love each other soo much and argue soo much since they're 3 years apart…just like me and Henny," she says, referring to her sister Hennessy Carolina. "But one thing for sure is they'll have each other's back like no one else ever will."
So. Is that a giant-size hint that the new baby is another girl? Only time will tell, but kudos to Cardi for being open about her reconciliation with her husband and owning that her marriage, like literally all marriages, isn't perfect. There's very little value in famous folks pretending the road is always smooth when that's rarely reality and it's cool to see a celeb talk about the work that went into repairing a marriage that two people clearly felt was worth fixing. That's a lot closer to the real world than most high-profile couples project on their social accounts but from Cardi, who always keeps it real, we'd expect nothing less.