14 Care Package Ideas For Practical Parents Who Worry About Their College Kid
by Becky Bracken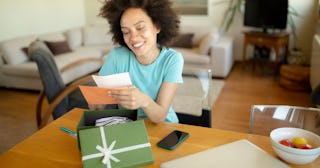 Ivan Pantic/Getty
Customized cookies are wonderful, and boxes filled with dozens of varieties of red candies are cute as they can be, but some parents are looking for more practical ideas when it comes to sending care packages for their kids. We feel you. Sending your teen off to college (or camp) will have you stressing about what they're eating, how much they're sleeping, and if they're taking care of themselves. Ramen noodles can only pass for a decent meal so many times before even the pickiest of teens reaches for a crate of fruits and vegetables. So if you're looking for care package ideas and themes that are helpful, send a little love and an extra reminder to floss; this is the list for you. These care packages might not be ready for Instagram, but they're sure to save the day. It's not nagging if it's a present, right?
Care Package Ideas for College Students
1. Gorgeous Gums Care Package
A care package to get through until the next dental visit with a pretty toothbrush, fancy toothpaste, flossers, whitening strips, a few varieties of sugar-free gum will be a gentle, loving reminder that having fun and good dental hygiene can go together.
2. Sock and Undies Fairy Delivery Care Package
A few months away from home will have anyone wondering where all those clean socks and underwear in the drawers used to come from. Is there a fairy system? When they need it most, send a care package with clean socks and underwear they'll truly appreciate.
3. Stay Well Care Package
Looking to pack up a get-well care package? Put together a package of vitamins, immune system boosters, probiotics, fresh fruits, vegetables, and even a juicer as a gentle reminder for the one you love to take care of themselves. Don't forget exercise! There are thousands of books, apps, and other materials out there on every exercise and philosophy imaginable to inspire anyone to get moving.
4. Shower You With Love Care Package
Bathing essentials are something everyone needs, but not everyone prioritizes purchasing. A care package filled with soaps, scrubbers, lovely towels, washcloths, and other goodies for getting clean are always a welcome treat when someone's far away from home. Even childhood bath time staples like Mr. Bubble could feel like a warm, sudsy hug from home.
5. #CleanTok Essentials Care Package
No cleaning rut can withstand the addictive inspiration served up by #CleanTok, the corner of TikTok for the cleaning obsessed. Pros and amateurs who love to clean join in to celebrate jaw-dropping makeovers and some of the best cleaning products around, like fun, good-smelling toilet bowl stamps, the wildly popular Scrub Daddy scrubber, Downy Unstoppables scent boosters Tide Pods, and the blue-colored Fabuloso, which are all mentioned often as the best of the best. Please send it to the one you care about and might be worried their living situation is getting a little grungy.
6. Scents and Sensibility
A sweet-smelling space can do wonders for the mind, spirit, and those sweaty gym clothes that are inevitably piled in the corner. Whether it's a pricey diffuser, aromatherapy gizmo, or a Glade Plug-In, send a care package with the gift of odor-neutralizing workhorses. There are sprays, air circulators, and slow-releasing wax melts are designed to delight as much as de-stink. Candles in group living situations, like dorms, can be dicey, so best to stick with flameless options.
7. Don't Forget to Hydrate!
The overall health benefits of good hydration are too numerous to be listed here, but let's assume we are all interested in pushing as much H2O on the people we love as possible. A care package with a cute water bottle — or even one of those cool ones that measure how much you drink — would be a very non-pushy reminder to keep drinking something other than Red Bull. Throw in a few water flavors and even some lip balm and hand cream to round out the theme.
8. Get Enough Sleep
No one away from home for the first time is getting enough sleep. But you can make getting enough rest a bit more appealing with a care package with new sheets, pajamas, some lavender-scented lotion, and even a sleep mask to ward off daylight rays coming through the window.
9. Coffee Replacement Options
Coffee is a lifesaver, but it's never a bad idea to try and cut down on caffeine. There are loads of coffee swaps out there with the same pep, including herbal teas, plant-based alternatives, Matcha, and wellness products that swap out caffeine for adaptogens and ingredients like turmeric and raw cocoa, which claim incredible benefits.
10. Happy Feet Care Package
Supportive shoes are a luxury a lot of young adults away from home for the first time don't want to spend on, but poor foot health can have a lifelong impact. Shower shoes for the gym and communal shower situations are a must to avoid fungus, so send along an extra pair, along with athlete's foot spray, a nice pair of comfy shoes, socks, pumice stone to remove callouses, and high-quality foot cream. Even a pair of insoles from the drugstore can work wonders on tired dogs.
11. Don't Sweat It! Care Package
Sweaty pits and palms might be too embarrassing to address on your own, so sometimes a strategic care package from home can offer the right solution. Sweaty nether regions, palms, and chafing thighs can all be tough to talk about, but there are plenty of lotions and potions to help. A nice powder and shorts to wear under sundresses when the temperature rises can also be lifesavers you didn't even know you needed.
12. Keep Calm and Study On Care Package
Help your kid be the best student they can be by sending them a package filled with notepads, sticky notes, pens, and other school supplies they may have run out of. Between note-taking, midterms, and finals, it can easily slip a student's mind that they're down to their last pack of pens. If they're the type of student who feels joy inside of a Staples or Office Max, this is the care package for them.
13. Home Essentials
This box is great for someone living on their own. Sometimes, no matter how much we visit Target, there are always a few things we forget. And unfortunately, these items are usually in the housekeeping department. So, to help that person stay on top of their home essentials, send them this care package filled with hangers, lint rollers, razors, stain-removal pens, soap, Q-Tips, lotion, and scissors. This will save them a trip to the store and give them all the necessities they need for their home.
14. Game Night Get-Together
Being away can be stressful, especially if the person is away for school. So send your favorite students a reminder to have fun with a game-themed care package. In the care package, fill it with everything they need for an unforgettable night. This includes snacks, candy, pop, and of course, several kinds of games. Be sure to include the classics like playing cards and chess.
This article was originally published on