San Francisco Signs 'CAREN' Law To Keep Karens From Making False 911 Calls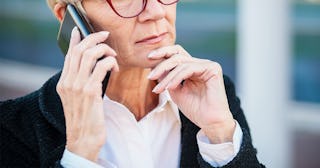 Gligatron/Getty
San Francisco, Ca signs a CAREN law to prohibit Karens from making false 911 calls
We have a Karen problem. Karens hate masks, sure, and Karens love to speak to the manager, but when Karens make 911 calls because a person of color is existing near them, that's a huge problem. Well, one city is doing something about it as San Francisco has just passed the CAREN Act, a new law that makes it illegal for someone to call 911 with a false, racist complaint.
Just in the last few months, in terms of viral racist Karen stories, there was the white couple who called the cops on a man of color who wrote "Black Lives Matter" on his own stoop and the white socialite who called the cops on a Black woman who was minding her business in a park and the infamous New York woman who called the cops on a Black man who was birdwatching.
In an attempt to curb these type of 911 calls, The San Francisco Chronicle reports that the San Francisco Board of Supervisors unanimously passed the Caution Against Racially and Exploitative Non-Emergencies Act (Aka The Caren Act), and though the law would need to pass a second vote next week, it would allow someone to sue the 911 caller in civil court if they felt harassed or discriminated against. According to KTVU, "anyone who is targeted by a false emergency report can recover damages of at least $1,000 plus costs and attorney's fees, and punitive damages."
This is long overdue, as the current system for retribution is that the racist 911 caller gets off scot-free and the victim of the racist 911 call has no recourse other than to move on with their life.
"Rather than calling the police or law enforcement on your neighbor or someone who you think doesn't look like they should be your neighbor, try talking to them and getting to know them. Build relationships to know your community," Supervisor Shamann Walton, author of the ordinance, told The Chronicle.
The law will also allow citizens to sue their 911 caller if they feel they were harassed on the basis of race, sex, age, religion, disability, gender identity, weight, or height.
Though it doesn't have the same savage title as CAREN, the entire state of California recently passed a law that would also make false and racist 911 calls illegal and punishable with a $2000 fine and/or jail stay. Not only are these 911 calls racist, but there also is never any clear danger present, which means these calls are also wasting 911 dispatchers' and police officers' time and resources.
"911 calls, are not customer service for people's racism," SF Supervisor Walton tweeted.
Well said.