Carrie Underwood's 3 Miscarriages Reminded Her She's 'Not In Control Of Everything'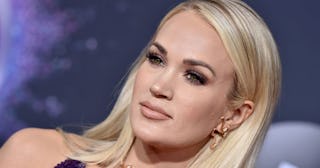 Axelle/Bauer-Griffin/Getty
Carrie Underwood opens up about her three miscarriages in a candid new interview
Throughout the years, Carrie Underwood has been totally transparent about her struggles with everything from fertility, miscarriages, and pregnancy woes to motherhood and postpartum struggles. Her journey to build a family of four wasn't without heartache, as the country star has revealed she suffered three miscarriages between the birth of her first and second sons, Isaiah Michael, 5, and Jacob Bryan, 13 months. In a new interview the country star delves deeper into the emotional experience of losing three pregnancies.
"For my body to not be doing something it was 'supposed to do' was a tough pill to swallow," she said with tears in her eyes during the interview for a Women's Health April 2020 cover story . "It reminded me I'm not in control of everything."
However, she also shares that opening up about her experience felt like "a weight lifted off my shoulders." Another great benefit about her decision to share her story with the world? Other women have shared their experiences with her. "It's not a dirty secret," she continued. "It's something many women go through."
In a 2018 interview with CBS Sunday Morning, Underwood revealed she got pregnant in early 2017, but it "didn't work out." Then, she became pregnant in early 2018, suffering a second miscarriage, and then a third a few months later in the spring. In addition to the heartbreak, she also admit that she experienced anger.
"I had always been afraid to be angry," she revealed. "Because we are so blessed. And my son, Isaiah, is the sweetest thing. And he's the best thing in the world. And I'm like, 'If we can never have any other kids, that's okay, because he's amazing.' And I have this amazing life. Like, really, what can I complain about? I can't. I have an incredible husband, incredible friends, an incredible job, an incredible kid. Can I be mad? No."
But she did get mad. During her pregnancy with Jacob, at one point she was convinced she was experiencing another miscarriage. "And I was like, 'Why on earth do I keep getting pregnant if I can't have a kid? Like, what is this? Shut the door. Like, do something. Either shut the door or let me have a kid.'" Luckily, the next day at the doctor, she received good news — and her son was born on January 21, 2019.
For more on Carrie Underwood's journey, you can pick up a copy of her new book, Find Your Path: Honor Your Body, Fuel Your Soul, and Get Strong with the Fit52 Life, now available on amazon.com.
This article was originally published on