Video Shows Carrie Underwood's Baby Knows Who The Real MVP Parent Is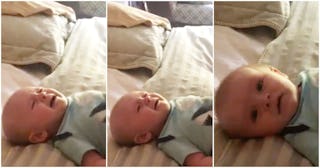 Instagram/Carrie Underwood
Babies prefer mommy's voice over daddy's — especially when it's a Grammy award-winning one!
Scientific fact: Singing to your baby not only calms them down, but can also benefit their cognitive development. Another scientific fact? While most fetuses respond to their father's voice, after birth they prefer their mommy's — especially when mommy is a Grammy-award winning singer.
Carrie Underwood's husband, former NHL player Mike Fisher, learned this the hard way, when he attempted to sing little Jacob Bryan an old Vince Gill song "I Still Believe In You." It was an epic fail until Underwood stepped in and dazzled the 5-month-old with her angelic rendition — because moms totally rule!
In the hilarious video shared to Instagram and captioned "Everyone's a critic," Fisher (who deserves major cred for his shockingly good voice) begins to belt out the lyrics to Gill's 1992 song. However, daddy's singing voice is obviously not up-to-par for little Jacob, who bursts into a fit of tears. Underwood then takes a stab at the song, and as soon as Jacob hears the sweet sound of mommy's voice, his crying stops and he gazes adoringly at the singer. However, Mike refuses to give up and sings again. Baby cries. Carrie takes over. Baby stops. And again. And again.
Sorry, Mike. Your son is just demonstrating what science has already proved — nothing compares to mommy's voice.
The hockey player refused to claim defeat, commenting on his wife's Instagram account that she clearly had an unfair advantage over him. "The real reason is he was hungry and wanted your food," he wrote, adding the hashtag #notmysinging. Okay, so he might have a totally valid point, but still.
If you follow Underwood on Instagram, you are well aware that her posts offer a glimpse into the highs, lows and realities of parenthood. She recently shared about totally relatable post-baby body struggles, and we totally appreciated it.
And while her kids may prefer her voice over hubby's, she has made it very clear that Fisher is a totally awesome dad. On Father's Day, she even listed all of the many things he is good at when it comes to parenting. Note: singing wasn't on it.
So, um, Mike, maybe you should just stick to catching frogs, playing outside and changing diapers!