Parenting Is An Accomplishment, Even If 'Everyone' Does It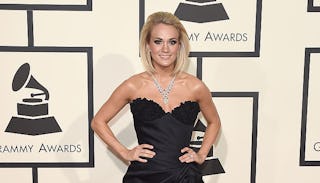 Carrie Underwood opened up about being a mom on the 2016 Grammys red carpet.
Last night, country star Carrie Underwood had the kind of night most moms dream about. She got to wear a gorgeous dress, walk the red carpet at the Grammy Awards, perform with a hot fellow music star, and we don't know for sure, but we're guessing she probably also got her chin hair waxed and shaved above the knee. It's the stuff of dreams for sure, but if you ask Carrie Underwood how she feels about it, she'll tell you none of it's quite as spectacular as her 11-month-old son.
The 32-year-old mom of one was nominated in the Best Country Solo Performance category, but she couldn't help mentioning her son, Isaiah, as she made her way down the red carpet at last night's ceremony. When asked by Ryan Seacrest what accomplishment she's most proud of, the American Idol champion and seven-time Grammy winner answered simply, "Being a mom."
"My little guy is the little sunshine in world, every single day," she added. "He's back at the hotel right now, and he's just smiley and sweet and happy and just, ah! He's the best."
Underwood and her husband, hockey star Mike Fisher, welcomed their son last February. Since then, Underwood hasn't slowed down much, releasing her fifth studio album and embarking on a world tour that began in January. Her son and husband have been by her side every step of the way.
At face value, it sounds kind of trite to say being a mom is your greatest accomplishment — especially when you're as successful as Carrie Underwood. As one person put it in the comments on the Today Parents Facebook page, "It doesn't take much to… pop out a baby, a lot of people do it. I think she should be more proud of her talent and what she's accomplished."
But, personal success doesn't necessarily have to outweigh or diminish the successes you feel as a parent. Underwood is mom to a baby, but she's also out there creating, performing, touring, and being nominated for Grammys. She's got a lot going on, and as so many of us know, it's easy to feel like you're dropping the ball in one area or another. Being able to maintain an enormously successful career and still feel like you're kicking ass as a parent is a big deal, and it makes complete sense that she'd feel proud of that.
On a personal level, being a mom might be a woman's greatest accomplishment, or it might not even make the top five, depending on how each of us measures success. But one thing we can all agree on is that being a parent is challenging and rewarding in ways that are totally unique. If you can excel at parenting and feel like you're doing a decent job in addition to the million other things going on in your life, well, that's a small victory worth celebrating.
This article was originally published on